The winter months are the ideal time to plan and prepare for adding cast stone features to elevate the appearance of your property.
When it comes to working on site, short winter days and long winter nights might not always be good news for self-builders.
But they're the perfect time to invest in a little research and planning. You'll know only too well how good preparation pays dividends later. Looking at the details now can save you time, money and effort in the long run.
So, grab a glass of wine. Pull your chair up to the hearth. And let's take a closer look at how you can easily and affordably elevate your property in good time for spring 2022.
Cast stone and researching your local area
First, how about taking inspiration from your local area? Taking a walk around your self-build property's local area can be a great source of ideas. It can also help you pick up on the local building traditions your planning office will look upon favourably. Often, it's the little details that go a long way.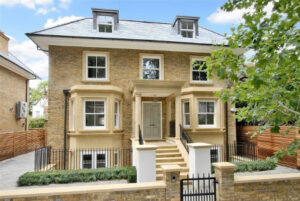 Cast stone features can transform plain elevations
A great example is cast stone heads and cills, window and door surrounds and gable copings. They can transform otherwise plain elevations, and ensure your self-build stands out for all the right reasons. The same goes for your paving and steps. Cast stone steps make your property much more interesting, adding a classic or contemporary feel and is always the perfect complement to brick, grass, shrubs, trees, paths and paving.
Cast stone can help with planning permission
Cast stone comes in all kinds of natural colours and textures that blend seamlessly in your local area. So, as well as enabling you to transform the appearance and appeal of your property, they can make all the difference in getting planning permission approval.
Speaking of which, getting your architect to specify the cast stone which is sympathetic to your region can be helpful in gaining planning approval. If you're drawing up plans now – either yourself or with an architect – why not take a look at our huge range of cast stone products as featured on our website.
Cast stone to maximise your budget
Spending time off-site and indoors, or at the early planning stage, is a great time to think about how you're going to maximise your budget. In every way, the impact of cast stone goes well beyond their surprisingly affordable cost.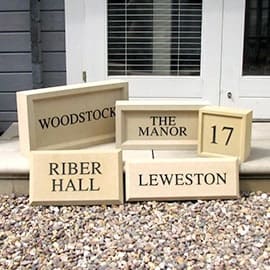 Carefully chosen products like cast stone name stones, cast stone number plaques and date stones add a personal touch. They look fabulous and are far superior and longer lasting than their wooden equivalents. They can either be built in during the build programme or surface fixed afterwards, and we can also create bespoke stones with your choice of words and graphics to add that personal touch.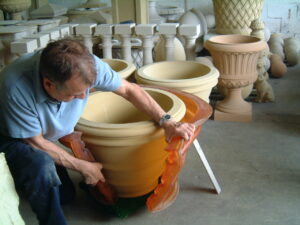 Cast stone specification – and scheduling them into your works
As well as being the perfect opportunity to create a schedule of works, it's also the ideal time to make decisions on selecting cast stone products. The reason? It's because while spring is one of our busiest periods, the winter months are quieter. So, while we'll always design, craft and deliver your cast stone products on time, on spec, and on budget, there are benefits to ordering early.
That's because of the curing time. The longer cast stone products have to cure the better. The minimum curing time is 14 days, but the longer cast stone products have to cure the harder and more durable they become. When it comes to cast stone, forward planning is king!
Cast stone samples – they're free and ready for you now
To help with your planning, cast stone samples are invaluable in helping you make the right choices. Not only for aesthetics and matching, but they can be helpful in convincing planning officials of the validity of your planning application.


samples help you make all the right choices
You can use samples to check cast stone options in different weather conditions, different light and different times of the day. They're big enough to help you judge accurately, but small enough to position without effort.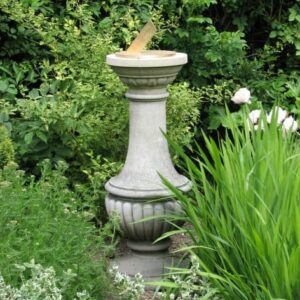 Cast stone to enrich your garden plans
While it may not be the best time of the year for gardening, it's the perfect time to plan the structure of your garden. Think about walkways, paths and sightlines. Consider adding secret spots and hidden-away enclaves. Imagine the space as it could be, a world away from what it is now, in the cold dark days.
Cast stone is ideal in a green and verdant setting. As well as providing form and function, they provide a sense of place. As well as adding year-round interest and texture, they bring charm and character.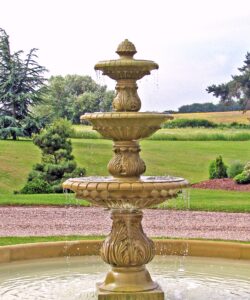 Cast stone fountains, urns and benches are great focal points
Products like cast stone fountains, cast stone urns, sundial plinths, and cast stone benches all provide a wonderful focal point for pathways, adding a destination and inviting you into the space. Depending on the shape and size of your property and outdoor space, cast stone porticos and cast stone balustrades are all fantastic options for making a statement about your property and adding impressive curb appeal.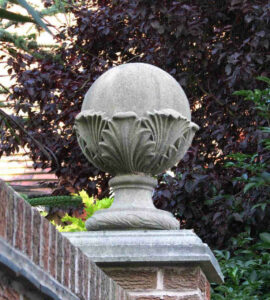 Cast stone handcrafted in Derbyshire
It's reassuring to know that each and every one of our cast stone products far exceed the performance requirements of BS1217, the UKCSA Specification for Cast Stone, and NBS clause f22. The vast majority of our materials are also sourced locally, including the sands and crushed limestones that we use. Naturally, all the items we supply are completely frost-proof.
A government grant is available to Self-builders
If you've not done so already, what better time to apply for a government grant available to self-builders? It could be a great investment of your time in the winter months, and provide invaluable funds for the spring and summer. You can find out more about the government grant for self-builders here.
Request your free cast stone samples today
Get your sample in early, and ensure the perfect match. Request your free cast stone samples here.
Why not give us a call?
If you want to discuss any aspect of cast stone, and how we can help you maximise the value and impact of your budget, please do get in touch with our expert team today. We're always happy to have a chat.