Acanthus specialises in the design and manufacture of top quality building components, landscape products, garden ornaments and fireplace surrounds. Everything is handmade to BS1217:2008 in Derbyshire from high quality local materials. Several standard colours are available to match most existing natural stones.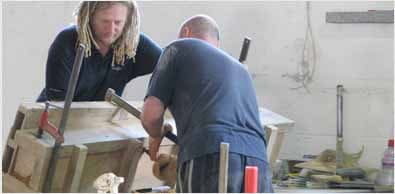 Being a family run business we are committed to producing quality products and providing first class customer service. Our extensive product catalogue includes a wide range of competitively priced standard components plus we also manufacture purpose-made items.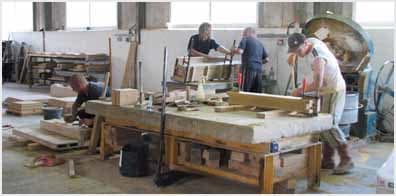 We supply all types and sizes of commercial, residential and private projects throughout the UK and we also export our products throughout Europe, the USA and the far east. Both office and factory staff have many years experience of manufacturing cast stone and of the construction process and we are always pleased to offer practical help and advice regarding any aspect of cast stone, from design and stone-matching to installation and siting.
1
Beautifully Crafted Products
Using our custom made moulds, we ensure ALL of our products leave the workshop to the highest standard
2
Expert In-house Design Team
Our expert CAD engineers are on hand to design bespoke products to suit any installation
3
Friendly, Professional Service
We have a team of experienced staff on hand to support you through the ordering and installation process
4
Staff With A Wealth Of Expertise
We're only one phone call away! Rest assured, our knowledgeable staff are at hand no matter what issues may arise
"May I also take the opportunity to say how impressed my wife and I have been with the service we have received from everyone we have dealt with at Acanthus."
Mr and Mrs Strettin-Hill
"The quality & design of your architectural products have made a huge impact on the finished house, especially the gable detailing. Superb quality & service, will definately use on future projects"
Mr Warne Building Contractors
"I would like to say that they look lovely and cannot wait for them to be fitted as it will be the finishing touch to the walls."
Mrs Glowacki
"Just wanted to thank you for a great service and a really nice product. The items look fantastic in our garden, A pleasure doing business with you."
Mr David Pallas
"I am delighted to have dealt with such a professional team and your service has been exceptional, much appreciated"
Nayyar Rafique
"When friends visit the house they can't believe how good it now looks. No one can seem to remember what it looked like before the work was carried out as it previously lost its original character and those who see it for the first time assume that the portico has always been there, a testament to Acanthus's quality and skill. The work to the front of the house was completed the day before we opened our garden to the public under the National Garden Scheme. Acanthus were aware of our tight deadline when we placed our order with them and to their credit they and their builder did everything possible to ensure that they delivered and constructed the stonework to meet our deadline. On the day we opened our gardens the front of the house looked fantastic – and complemented the gardens perfectly. We cannot recommend Acanthus highly enough."
Zoe Chilvers
"Just a quick note to say how pleased we are with the heads and cills, which were delivered on Wednesday. They look superb and are a perfect match to the original Victorian ones. Many thanks for sorting the order out so quickly for us."
Mr Paul Peat
"Just a few words to say how pleased I am with the pier caps and coping which were delivered on Wednesday. They have now been bedded on the wall and it looks simply amazing. Beautifully crafted and and are a credit to your company. Once again many thanks."
Mr Jennings
"Thank you for all your help and patience with this project.. an excellent outcome from using excellent products alongside excellent service.. everyone who visits comments on the stonework detailing, many thanks again."
Richard Bailey
"From start to finish, the service and effort that you put into our war memorial project was superb and the final design that you came up with for us and the local authority was highly impressive. Your erection team did a superb job and the monument has quickly become a major landmark. The quality of the obelisk is fantastic and the huge number of visitors that comment on the actual memorial are testament to your ability – many thanks."
Ian Kerry