Add elegance and drama to your staircase, garden or balcony with our stunning cast stone balustrade
Cast stone balustrade can be used on all types of buildings or for landscaping and garden projects, providing a classical and attractive but open barrier that frames, rather than obstructs, the view beyond.
Our most popular balustrade is based on an 18th century, classical design incorporating slender piers with beautifully moulded rails and plinths. This is available in a range of heights and styles and can be supplied as either centre or side run-in. Various plinth and rail choices are available as well as the option of a sub- plinth for use on balconies and where compliance with Building Regulation requirements is crucial.
Corner and intermediate piers, half-piers, half balusters, and curved or angled balustrading is possible as well as raking balustrading for steps. We also produce a range of matching treads and risers.
Suitable for Residential & Commercial Projects
Whether you're a homeowner seeking to enhance your residence with a touch of awe-inspiring elegance or if you're an architect or property developer involved in a large project, we can assist you in providing the ideal balustrade solution.
If you're looking to add balustrade to your home simply let us know where you want the balustrade to go and what style you are looking for and our friendly team can work with you to find the perfect product for your project.
If you are a developer then please get in touch with the team. We'd be happy to talk through any technical requirements and whether you need to comply with Building Regulations. We'll provide a custom solution based on your project.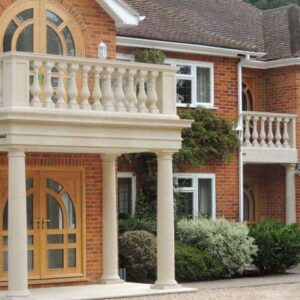 Cast stone balustrade can be used in many locations but most commonly to create a stunning balcony or as a beautiful addition to some garden stairs.  
Whilst cast stone balustrade is most commonly used on the exterior of the property, it can also be used indoors to finish off an interior balcony or to create a grand staircase in the main entrance of the property. 
Cast Stone Balustrade, Country House
As a component of the major landscaping project for Farr & Roberts, we provided more than 500 balusters, in addition to exquisitely crafted bespoke gate pillars, pier caps, and coping stones.
The property's main steps showcase a ramp and twist balustrade that extends onto the terrace and perimeter balustrade. When the main contractor requested a recommendation for a skilled balustrade installer, we were able to assist with that too. 
The customer was overjoyed with the final outcome, expressing satisfaction with the superior quality and excellent workmanship.
Click on the image below to see our designs