Enhance the value and kerb-appeal of your project using cast stone blocks.
About our Cast Stone Blocks
Our ashlar blocks come in a range of standard metric and imperial sizes, ensuring that you can find the perfect fit for your specific project. Whether you're a self builder looking to add a touch of elegance to your dream property or an architect in search of a timeless building material, our cast stone blocks are perfect for you.
Our cast stone blocks are available in either plain or chamfered profiles, which allow for seamless integration into various architectural styles.
We also offer a range of cast stone quoins which are perfect for adding stunning details to the external corners of a property.
If you would like further information, advice or free stone samples then please call or complete the enquiry form.
Please find our plain and chamfered cast stone blocks along with the sizes these blocks are available.
| Code | Size (A) | Size (B) | Weight |
| --- | --- | --- | --- |
| BPL1 | 440mm | 215mm | 20kg |
| BPL2 | 444mm | 219mm | 20kg |
| BPL3 | 440mm | 290mm | 27kg |
| BPL4 | 444mm | 294mm | 27kg |
| BPL5 | 594mm | 294mm | 37kg |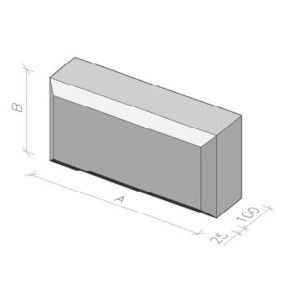 | Code | Size (A) | Size (B) | Weight |
| --- | --- | --- | --- |
| BCH1 | 440mm | 215mm | 20kg |
| BCH2 | 444mm | 219mm | 20kg |
| BPL3 | 440mm | 290mm | 27kg |