Cast Stone is proven to be one of the most effective ways to add value to your property. Easily. Effectively. Affordably.
When you're looking to elevate the value and appeal of a property, Cast Stone will always be an investment in quality. We share our 5 top tips to maximise the value of your construction budget, by using Cast Stone products for your property.
By choosing Cast Stone, and making a few smart decisions along the way, you can make every penny of your budget work as hard as possible. Not just by making your budget go further, but also by ensuring it's delivering the impact you're looking for.
Here are our 5 top tips to maximise the value of your budget using Cast Stone products:
Tip 1 – Plan well ahead  
As you'll know well, everyone is facing long lead times for construction materials right now. A combination of factors, from global logistics issues to a surge in demand, means we're all having to factor in longer lead times.
The good news is that you can overcome this by getting organised early. You'll need to decide exactly what materials you're going to require. And, importantly, you'll need to choose the right supplier, one which provides lead times you can rely on.
By planning ahead, you can fit the delivery of your materials into your construction timelines and avoid expensive delays and hold ups.
A great way to maximise the value of your construction budget is by incorporating Cast Stone features. Because most Cast Stone products are made to order, planning ahead means you can be certain of receiving our Cast Stone products when you need them.
With spring and summer our busiest periods, planning well ahead guarantees delivery without compromising timelines or product quality. Always remember to allow time for quotes, for drawings and for moulds if you're going bespoke. But most important of all, get in touch with us early on in your project…
Tip 2 – Talk to the experts about money-saving options
No-one knows Cast Stone like Acanthus. A great way to maximise the value of your budget is to visit us at our factories. We can help you make sure you're selecting the right colour and most cost-effective cast stone for your project.
That means seeing how different Cast Stone colours and textures look first-hand. You can see them in different lights, in both wet and dry conditions. You can talk to our craftspeople, who lovingly create every Cast Stone product by hand, and see our why our unsurpassed quality is worth waiting for. You can take away samples, to check against your property or to give to your planning authorities and see how Cast Stone can elevate its appearance.
Talk to us early on in your project, and you'll benefit from the experience and expertise we have to show you easy ways you can save money by making the right Cast Stone choices.
Tip 3 – Use standard Cast Stone items wherever you can
By their very nature, bespoke Cast Stone products take longer to produce, and therefore costs more. As such, you can make massive savings by choosing standard Cast Stone items.
By avoiding the need for design drawings and the manufacture of bespoke moulds, you can save a lot of money and time.
We have a massive range of standard Cast Stone products to choose from here at Acanthus. All can be adapted to your precise needs. And all come in a massive array of shapes, sizes and combinations. You can see them in person by visiting us or you can take a closer look now on the standard products pages on our website.
We're always happy to create bespoke products ideal for extensions or renovations or to meet planning requirements, or to suit a particular style you're after. However, choosing to go down the standard product route will certainly maximise the value of your budget. All without compromising quality, or the wow factor you're looking to achieve.
Tip 4 – Reduce the number of Cast Stone sizes you use
A really easy way to create an outstanding difference without it costing you the earth, is by narrowing down the number of different Cast Stone sizes you use.
By way of example, let's look at windows. Having Cast Stone Heads and Cast Stone Cills in just a few different lengths will cost much less than having them in lots of different lengths, as each change to a mould increases the costs.
As well as saving money, you'll also get them quicker. Being certain about optimising the value of your budget is all about embracing standardisation. It enables us to avoid having to change or adapt moulds and generates time and cost savings for you as a result.
Tip 5 – Add the wow factor with smart Cast Stone choices
Our wide range of Cast Stone products means you're free to create an amazing impact by selecting the right product in the right place. Naturally contrasting with brick, Cast Stone adds a lot of feature detail without having to spend a fortune:
Create outstanding curb appeal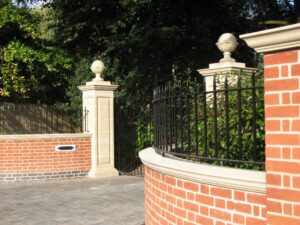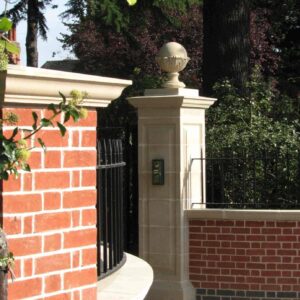 You can really grab attention with our impressive Cast Stone Gate Pillars, Cast Stone Pier Caps and Cast Stone Copings. Each elevates your entrance and enhances the value of your property without it costing the earth.
Create the wow factor easily and affordably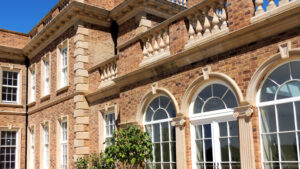 You can create that invaluable wow factor with our Cast Stone Window Heads, Cast Stone Window Cills, and Cast Stone Window Surrounds, perfectly framing your windows. We have a large range Cast Stone to perfectly complement your design or theme.
Create a glorious welcome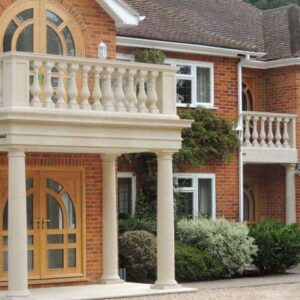 For something that truly stands out, choose a premium Cast Stone Portico. These are a fantastic way to transform a bland elevation, for new builds and existing properties. You'll be making an investment in classic British quality and style, available from only £2,500 depending on the size. Our Cast Stone Porticos have been known to add 10 times their cost to the value of a property.
Create breath-taking impact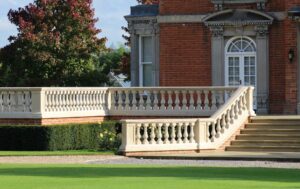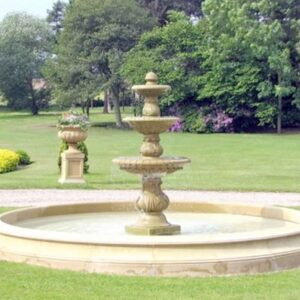 Our Cast Stone Balustrades and Cast Stone Fountains and Pool Surrounds, each of which provides a transformation that is at once deeply impressive and timeless.
Create a unique ambiance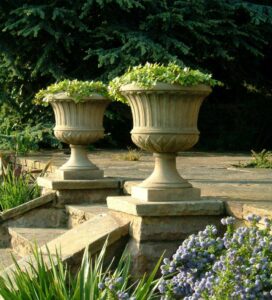 Our Cast Stone Urns and Tazzas suit any garden setting – from the small and beautiful Georgian Tazza, through to the magnificent Urbino Vase. Classically designed Benches, Sundials and Bird Baths add style and timeless appeal to gardens of any size and style.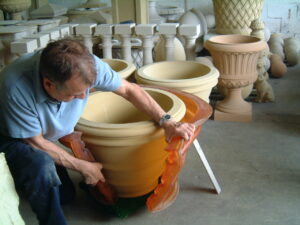 British quality Cast Stone products handmade in Derbyshire
The vast majority of our materials are sourced locally. This includes the sand that we use, and the crushed limestone. The only thing we import from outside our local area is the cement that goes into our products.
Naturally, all the items we supply are completely frost-proof. And, they also far exceed the performance requirements of BS1217, the UKCSA Specification for Cast Stone, and NBS clause F22.
Government grants available to Self-builders
If you're a Self-builder, you might already know the government is keen to encourage you. Why miss out? Make the most of the new government grant. Find out more here.
Request your free cast stone samples today
To ensure the perfect match, we offer free Cast Stone samples. You can request yours by clicking here. Remember, Acanthus will design, craft and deliver your Cast Stone products on time, on spec, and on budget.
Let's talk!
To discuss how we can make maximise the value and impact of your budget, please get in touch with our expert team today.