It's crucial to pick a stone colour that compliments not only the walls, windows, and roof on your home, but also the area surrounding your home. In this article, we'll walk through some of the most appealing colours for stone items, how they suit different styles of properties, and how to choose an exterior stone colour for your home.
"Which is the best stone colour for my home?" – It's one of the most common questions we get asked, and for good reason! Choosing the right stone colour to go with your home is a big decision to make in your renovation or self-build.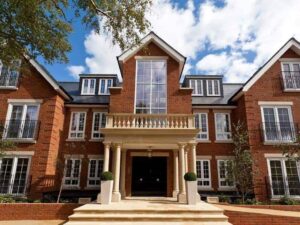 The importance of choosing the right stone colour
Not only is stonework a particularly important decision you'll make to your home, but it also plays a large impact on the future value and general curb appeal of your home.
Ensuring your design ages well
We all know of a property that's had design decisions that haven't aged too well. By choosing a timeless colour that suits your property, is sympathetic to the architecture, with a durable material, you'll stand a good chance of your stone installation looking great for generations to come!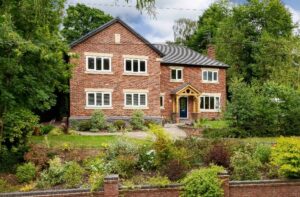 Will stonework suit my property?
Many will assume that stonework adds instant beauty and value to every property, regardless of the property style. Whilst stonework can be applied to any property, different property types will suit completely different stone projects. For example, adding an imposing 10ft, white portico to your humble thatched cottage won't suit the style of the property, however there are probably other types of stonework that would suit this property type much better.
For example, that white portico would look stunning on a Georgian townhouse, as it's in-keeping with the architecture of that era.
If your home is a modern-style new-build, you may be able to be slightly more flexible with the types of stone structures to add. If you are completing a new build project, such as a self build, considering the architectural style and era that the design is based around is crucial when thinking about how to choose an exterior colour for your home.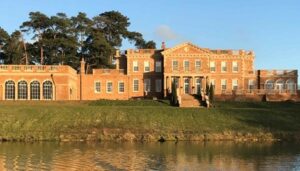 Which stone colours go well with modern and traditional architecture?
It's impossible to give a definitive answer, as it's always best to get professional advice on the specifics of your project. However, there are certain colours that we've found tend to work with virtually any era of architecture. Relatively neutral colours such as Ivory and Portland tend to work with both modern and traditional architecture types.
Often the more traditional architectural types suit colours such as Bathstone and Terracotta, with these colours growing in popularity during recent times. More modern architectural types often suit simplistic colours such as Charcoal.
Essentially, all of these suggestions are just a rough guide, and the best practices on how to choose an exterior stone colour for your home is to consult a professional, get plenty of samples and view the samples alongside your design in good lighting.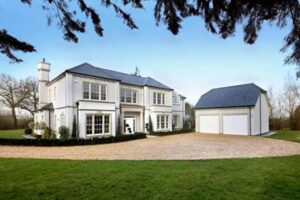 Coordinating with your home's features
As a general rule of thumb, the colour of stone that you choose for your property should be considerate of the following:
Brick, cladding and render colours
Roof colour and style
Window and door colours
Existing stone elements within the architecture
Landscaping style.
Which parts of my house should I include stone?
The best use cases for adding stone work are often within architectural dressings, such as , heads, strings, copings, pier caps, and door surrounds.
If you're choosing to add stone to the walls of your property, be sure to use colours that compliment the rest of your stonework.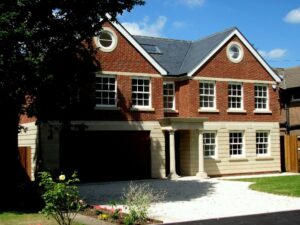 Deciding which stone feature you want to install
The location and design of your stone feature will play an important role in the colour that you choose. For example, stone installations that are a focal point, such as an imposing stone entrance, could benefit from a contrasting colour when compared to the rest of the building, although this is purely down to personal preferences. This may apply with installations such as a portico, door surround or gate pillar.
Usually, when a client is looking for a wide variety of stonework for their property, it's often best to keep it simple and stick to the same colour throughout, particularly when using stone to add features, as the use of too many colours throughout your project will usually have less impact.
It's best to consult with your architect and stonework estimator when thinking about how to choose an exterior stone colour for your home.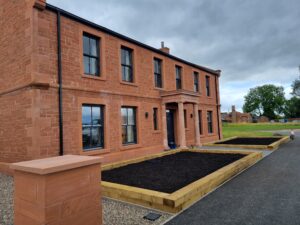 The most popular exterior stone colours right now
Over recent times the darker colours such as charcoal, grey, and terracotta have grown in popularity significantly. We think this is for good reason, being bold and impactful, but also beautiful and classy if applied correctly.
The timeless classics that have always been popular tend to be Ivory, Charcoal, Terracotta, Bathstone, and Portland, with the latter being used on buildings for hundreds of years, including the Houses of Parliament and St Paul's Cathedral.
We appreciate these colours, as their uses on reputable and significant buildings have proven their timelessness, however the decision should ultimately come down to personal preference, making  consulting a professional, and using plenty of samples particularly important.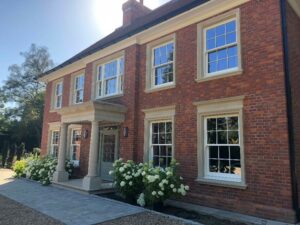 Does stone increase home value?
If applied thoughtfully, stone features generally add to the curb appeal and value of your home. Although many self-builds are a 'dream-home' project, the cost effectiveness and value added by choosing a particular type of stone is still something to be considered.
Whilst the colour that you choose will be largely subjective to your preference, consulting professionals and viewing the stonework in person is often the best way to find the colour that will create the biggest impact on your property.
What should I consider with planning permission or listed buildings?
Consider the environment – is your house in a suburban, urban or rural area? What colours exist within your environment? Of course, listed buildings, sensitive and heritage areas will be restricted to which colours they can use, so it's crucial to consult with your architect and your local council for more information. People often request our samples to present at planning meetings, as it helps with giving a clear idea of the design to the planning committee.

Location-Specific Stone Colours
The uses of stone throughout the UK sometimes differs from county to county, so it may be worth selecting a stone colour that suits your area. For example, London often uses the Portland style of stone, whilst Yorkshire has plenty of Yorkstone, Bath has a lot of Bathstone, and Cotswolds stone is commonly found in, you guessed it, the Cotswolds!
Finding inspiration for your stone installation
Drawing inspiration from other projects and neighbouring properties is a useful way to get a better understanding of what colours work well with your style of property. Sites such as Pinterest are excellent for providing inspiration, and your stone manufacturer of choice will often have images of projects similar to yours where the colour scheme has worked wonders!
Here's some of the samples available at Acanthus Cast Stone:
How to use samples
When considering how to choose an exterior stone colour for your home, selecting samples are an essential part of the decision making process.
When selecting samples, it's essential to consider the following:
Consult the professionals with an idea of what you want
Whilst colours are down to personal preference, there are some colours that are proven to have a timeless appeal. Working alongside your Architect and Stone Estimator will help in picking the right samples.
Bring the sample to your site
It may seem obvious, but by bringing several samples to your site, you can compare and contrast which colour stone works best alongside your project.
Create a mood board
By bringing together the various elements within your project, such as bricks, render, roof tile colours and the environment around your property, you'll be able to gauge which stone colours work well together.
Consider the times of the day, lighting, and weather conditions
When bringing your samples along to your site, remember to consider what they might look like under different lighting conditions, and in rainfall.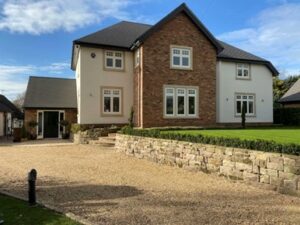 Requesting Stone Samples
Obtaining samples can be a great way of getting the best colour for your project. At Acanthus Cast Stone, we've crafted a selection of colours designed to suit a wide variety of tastes and architectural styles. We've worked on both small and large-scale projects for over 17 years, and have designed our colours carefully to suit a range of architectural types.
Contact our friendly team of stonework professionals for a free consultation on the best stonework to suit your property. By working with our team, we hope that you'll be able to narrow down your favourite colours to a select handful of samples!