What are cast stone cills?
Cast stone cills, also known as cast stone window sills, are architectural elements that are installed beneath windows. Not only do they add a touch of class and sophistication to the exterior of a property, but they also serve a practical purpose of directing rainwater away from the window. This helps to prevent water damage to the window, which can result in damp problems.
Cast stone window cills differ from regular plastic or wooden window cills that are most commonly found on properties, as they are usually much thicker and provide a more impactful appearance. Cast stone cills are also much more robust and effective at keeping rainwater away.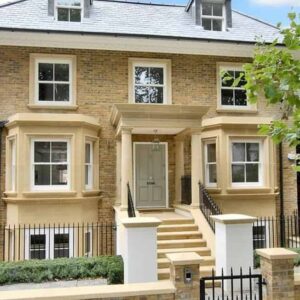 What is the best material for an exterior window cill?
Whilst the best material will depend on a wide range of factors, we believe that cast stone offers the best overall solution for those wanting to add a classy, well finished piece to their home, without it costing the earth, or requiring constant maintenance. Cheaper options such as PVC often lack character and the aesthetic benefits, and natural stone options are much more expensive.
Here are some of the most popular materials for exterior window cills (in no particular order):
Concrete
Concrete is a versatile and cost-effective option for window cills. It can be poured into custom moulds, allowing for different shapes and sizes. Concrete is porous, meaning it has microscopic pores that can allow moisture to penetrate the material. Over time, prolonged exposure to moisture can lead to water absorption, resulting in cracks, spalling, or deterioration of the concrete cill. This means that concrete cills often require maintenance and sealing to protect against moisture absorption and staining.
Natural Stone (such as limestone, granite, or marble)
Natural stone is a stunning material, and provides a timeless look. It can withstand harsh weather conditions and requires minimal maintenance. However, natural stone can be expensive, and its weight may require additional structural support during installation. As natural stone is extracted from the earth's resources, it can't be manipulated as easily as manufactured alternatives such as cast stone, making the appearance of the finished product less predictable.
Cast Stone
Cast stone offers the look and feel of natural stone at a much more affordable price. The physical difference between the two is almost indistinguishable even up close, but cast stone can cost four or five times less than natural stone. Being manufactured, as opposed to extracted, Cast Stone is more sustainable, and can be moulded into virtually any design, colour, shape or size with ease, and allows you to achieve the aesthetic you desire without any restrictions, allowing for a specific and predictable design.
Learn more about the differences between natural stone and cast stone here.
Ultimately, the best material for an exterior window cill depends on personal preferences, the architectural style of the building, and the desired balance between aesthetics, durability, and budget. It is recommended to consult with professionals or suppliers who specialize in stonework. Contact a member of our team for more information on finding the best stone window cill solution for you.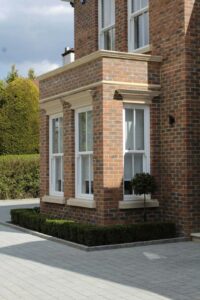 Benefits of cast stone window cills
Using cast stone for window cills offers several benefits compared to alternative materials such as concrete, limestone, or natural stone:
Appearance
Cast stone is designed and customised to closely resemble the appearance of natural stone, including limestone or other types of stone. It offers a wide range of colours, textures, and finishes, allowing for greater design flexibility and the ability to match existing architectural styles.
Durability
Cast stone is highly durable and able to withstand various weather conditions, including freeze-thaw cycles and UV exposure. It is less prone to cracking, spalling, or deterioration compared to concrete, limestone, or natural stone, ensuring long-lasting performance.
Consistency
Cast stone is manufactured in controlled environments using moulds, resulting in consistent quality and uniformity of the material. This ensures that each cast stone window cill has the same appearance and dimensions, providing a cohesive and polished look.
Weight
Cast stone is generally lighter in weight compared to alternatives such as concrete, making it easier to handle and install.
Cost-effectiveness
Cast stone offers a cost-effective alternative to natural stone while still providing a similar aesthetic. It is typically more affordable than natural stone options like limestone and can provide cost savings without compromising on appearance or quality.
Maintenance
Cast stone requires minimal maintenance compared to materials like natural stone. Being manufactured, it provides much better waterproofing from the factory, compared to natural stone. A relatively simple, yearly clean and inspection are usually sufficient to keep cast stone window cills in good condition.
Availability
Cast stone window cills are much more readily available compared to finding specific types of natural stone or limestone.
Choosing the right material for your project is an important one, as it'll play a large part not only in the future maintenance of your home, but also its value. Contact a member of the team for more information and advice on choosing the best material for your project.

How to choose the right cast stone window cill for your home
It's a big decision to make, but fortunately there's loads of resources out there to help with finding the right cast stone window cill for your project.
By taking inspiration from designs that are based around a similar architectural style to yours, requesting samples, and working alongside the manufacturer, we're certain that you'll find the right cast stone cill for your project.
We can manufacture your cast stone window cill to fit the exact dimensions of your window opening, as the dimensions for each project are usually different each time. We also have a wide variety of styles, sizes, and colours to suit the architectural style, personal preferences, and budget requirements of your project. View our range of cast stone window cills here.
What colour window cill should I have?
Whilst the colour of your cast stone window cill will ultimately come down to personal taste, there are a few elements of your property that you should consider when deciding.
Even if you don't currently have any stone dressings on your home, it's important to consider the architectural style of your home. For example, often the more traditional architectural types suit colours such as Bathstone and Portland, with these colours growing in popularity during recent times. More modern architectural types often suit simplistic colours such as Charcoal.
What colour window cill should I choose for a listed building?
Listed buildings, sensitive and heritage areas will be restricted to which colours they can use, so it's crucial to consult with your architect and your local council for more information.
People often request our samples to present at planning meetings, as it helps with giving a clear idea of the design to the planning committee.
Ultimately, we would recommend conducting some initial research, looking for inspiration, viewing a wide range of cast stone samples, and consulting a cast stone professional to help in deciding on the best colour for your cast stone project.
We've created an article specifically for helping people in choosing the colours for their cast stone project. Head over to the article 'How to Choose an Exterior Stone Colour for your Home' here.

What thickness should a window cill be?
Whilst it's important to consult with your builder and architect to ensure that the window cills you order match with the rest of your project, the thickness can be largely down to personal choice.
Our most popular cill is the C2 (140mm high) with 100mm stoolings at each end which are built into the brickwork. Please see our drawings for full details of cill designs.

How deep should a window cill be?
This depends on a combination of both the measurements of the window and your personal preference. You'll need to consider the wall construction, positioning of the window frame, and the window type before deciding on the depth of your window cill. Usually, the window will need to sit behind the cill, and most of our customers want a slight overhang for added impact.
What are the options for render with cast stone window cills
Render can work well with a wide variety of properties, but you'll need to factor this in when measuring up and deciding on your cast stone window cills. The amount of overhang is purely down to personal taste, but you'll want to leave some room for render if you choose to use render in your project.
How to clean cast stone window cills
Firstly, you'll want to remove any debris around the stone, create a mild cleaning solution with a suitable detergent, gently apply the solution to the stone, softly scrub the stone with a soft sponge, and then rinse and dry. For a more detailed guide on how to maintain your cast stone, head over to our article 'Ultimate Guide to Cast Stone Garden Landscaping'.
Window cills tend to weather faster than other elements of stonework on a property, as their core purpose is to direct rainwater, making cleaning often more frequent than other areas of a property. Having said that, cast stone generally tends to age and weather quite nicely, without significant staining, often looking better after a number of years than when brand new.
For more stubborn stains you usually need a more specific cleaning solution. It's important to follow the manufacturers guidance when cleaning your cast stone.
How to measure and fit cast stone window cills
The first step for measuring and fitting cast stone window cills starts with the initial design brief, usually created by the architect. By writing up a specification of the width, depth, height and length for the window openings, it's then passed onto the builder who will create the window openings.
Once you've decided on the type of cast stone that you wish to use, we will tailor make the cast stone window cills specifically to your measurements and design requirements.
How do you install a stone cill
As part of the design and build, we can provide a technical sheet for the builders to follow when installing your cast stone window cill.
Any reputable builder will be able to install a cast stone window cill, and the installation process is surprisingly quick.
Conclusion
Cast stone window cills are an ideal choice for adding elegance and sophistication to your project. When it comes to selecting the best material, cast stone stands out as an excellent choice due to its affordability, durability, and customisable nature. It closely resembles natural stone but at a fraction of the cost, whilst being low maintenance and highly durable.
Ultimately, the decision on the material, colour, thickness, and installation of window cills should be made considering personal preferences, architectural style, and consultation with professionals.
We hope that you've found this article useful. If you have any questions related to anything discussed in this article, please do not hesitate to contact a member of our team.