Cast stone is made from a mixture of crushed limestone, washed sand, cement and additives. It is a highly refined building or masonry material, and is an affordable, durable and attractive form of precast concrete used to replicate the appearance of natural-cut stone, while being a stronger, more easily workable and readily available alternative.
'What is Cast Stone made from?' is a question we're often asked.
The cement in cast stone is either white – which we use when creating Portland-style cast stone, or grey for our York-style cast stone. To this mix, we also add pigments for precise colour matching. Finally, we incorporate additives to make it completely waterproof.
In making our products, we use high quality aggregates, including premium graded Derbyshire limestone, sand which is sourced locally in the Midlands and the highest quality cement, specially selected for its attributes in creating the perfect mix.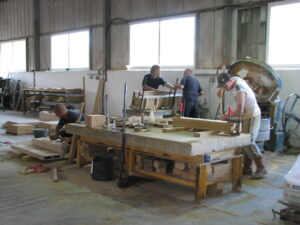 How do you make it? 
Here at Acanthus, we use the semi-dry method to make our products. This uses relatively low amounts of water which allows for large numbers of products to be produced relatively quickly from single moulds. Generally, casting is face down in a wooden mould. The aggregate is then hand-compacted.
This process means that cast stone is a suitable alternative to natural stone. This is because it can be precisely crafted to exact specifications, in extremely fine detail.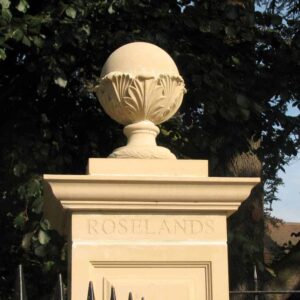 Adding detail  
Cast stone is a more affordable alternative to natural stone because it does not have to be individually hand cut. Fine and intricate detail can be incorporated during the moulding process, with moulds able to be filled again and again. So, when it comes to repetition of design, it is the far quicker and cost-effective alternative to natural stone.
Adding colour 
Consistency of colour, to replicate the different hues of natural stone, is achieved by mixing in colour pigments, which means cast stone is available in a variety of colours and applications. It means it is ideal when matching existing stonework for example, or when producing a pleasing complement to brickwork, or an attractive finish in line with regional stonework traditions.
A more affordable alternative to Natural Stone
For new builds, extensions, renovations and improvements, cast stone is the cheaper and faster alternative to natural stone, with absolutely no reduction in appearance.
The production process ensures that it looks and feels like natural stone, with realistic and natural textures which age and mature just like natural stone. The fact is, 9 out of 10 people will never be able to tell the difference between the two.
A highly refined masonry material
All of these production processes combine to provide an attractive, affordable and hard-wearing material.
This ensures cast stone becomes a highly refined building or masonry material, a form of precast concrete used to simulate natural-cut stone. It is widely used for architectural and ornamental purposes. These include ornate structural elements such as fountains, walls, sills, pillars, balustrades and porticos.
It is frequently used as an alternative to natural-cut limestone, brownstone, sandstone, granite, slate, and other natural building stones. The reasons are many. One of the main reasons is that natural stone can erode badly due to variations in moisture content, which can impact both the quality and colour.
It is more controllable technically, with the mechanical mixing and tamping processes producing a uniformly smooth, textured stone offering improved durability.
A brief history 
Cast stone has been a premium building material for many hundreds of years. The earliest known use of it dates at about 1138 at Carcassonne, France, the city which contains the finest remains of medieval fortification in Europe. The earliest recorded use of cast stone in England was the "artificial stone" used by Henry VIII's brewer for Sutton Place in Surrey.
Originally constructed as a thrifty and versatile alternative to natural cut stone, cast stone became widely used in London in the early 20th century. Indeed, it is still visible in Hampton Court and Buckingham Palace, testimony to the permanence, quality and attractiveness of cast stone in the most demanding and visible locations.
Quality Standards
In the UK and Europe, the standard 'BS 1217 Cast Stone – Specification from the BSI Group' ensures quality standards in cast stone products. All Acanthus products adhere to this standard.
Environmentally better than Natural Stone
The qualities that have made cast stone such a popular construction material are its strength and versatility, an advantage when transporting and installing cast stone. It's also highly customisable, is non-combustible, and easily maintained. It is also considered a natural material, and environmentally sustainable, a welcome attribute with environmental concerns increasingly an issue in construction.
Delivery periods tend to be shorter than for natural stone, especially when it comes to repetitively moulded items, and with no need to import it from abroad, it has a much smaller carbon footprint than natural stone which is often imported from across the world.
Talk to the Experts
Now you know what it is made from, and the advantages the production process gives cast stone over natural stone, why not take a closer look?
You can request free samples from Acanthus in a range of colours and textures, including Portland, York, Bathstone, Cotswold, Ivory, Natural Grey and Charcoal.
At the same time, if you'd like any advice about any aspect of specification and installation, please feel free to call us on 01773 540704 or email our expert team at info@acanthuscaststone.co.uk.