Create an astounding difference to your property!
Here at Acanthus, we love self-builders building with cast stone. With an unwavering focus on ensuring superb quality with demonstrable value for money, we've so much in common.
Self-builders building with cast stone, we salute you
We love your exacting standards for quality, and your relentless attention to detail. We also love your ambition, and your desire to create a home without compromise. And we love how you keep a close eye on your budget, and your resolve to spend your money wisely.
It's because we share your focus on quality, on making a difference, and on achieving the most from your budget, that we love what you do so much. And, more importantly, why everything we do is driven by what you need to elevate your property.

Elevate your property with our range of cast stone for self-builders 
As a self-builder, you'll find our wide range of high quality standard and bespoke cast stone products can make an astounding difference to your project – be it a new build or refurbishment – to raise the appearance of your property to remarkable new heights.
With our complete range, we can match to existing stonework by providing cast stone products in a range of natural stone shades with the same texture and feel as carved stone.
How will you make the difference?
Our wide range means you're free to create an amazing impact by selecting the right product in the right place. And what a canvas you have!
Create curb appeal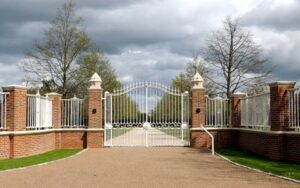 You can create immediate curb appeal with our impressive cast stone Gate Pillars, cast stone Pier Caps and cast stone Copings, elevating your entrances.
Create the wow factor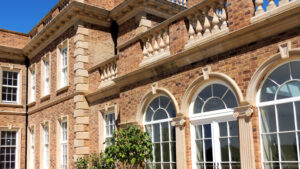 You can create that invaluable wow factor with our cast stone Window Heads and cast stone Window Cills, perfectly framing your windows with stone sympathetic to your design.
Create a glorious welcome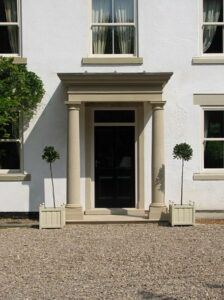 For something really special, choose a premium cast stone Portico, and you'll be making a statement of classic British quality. Here you can see the effect our PTi Portico – available from only £2,500 depending on the size – had on the frontage of this home. Click here to see the architectural drawing for this elegant cast stone Portico.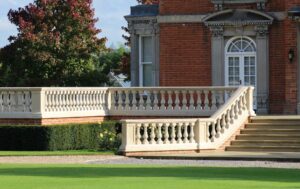 The same goes for our cast stone Balustrades and cast stone Fountains and Pool Surrounds, each of which provides a transformation that is at once deeply impressive and timeless.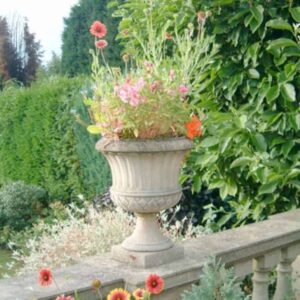 Elsewhere, our cast stone Urns and Tazzas suit any garden setting – from the small and beautiful Georgian Tazza, through to the magnificent Urbino Vase.
Choose high quality products from our range, or we'll create something unique for you
We've a wide range of product designs ready to be delivered. Or, you can have bespoke items custom-made to your own specification or to suit architectural plans. Each offers unrivalled quality, attention to detail and value for money.
Superior quality is surprisingly affordable
As we all know, budget can be important for self-builders. So, it's gratifying to know that while we never compromise on the quality of our cast stone products, each and every one can be yours for a surprisingly affordable price.
The reason is simple…
You'll find we're nothing like other cast stone manufacturers. As a family-owned business established for over 15 years, we're free to focus on the quality of our cast stone products, without the costs of fancy showrooms and salespeople that bump up others' costs. It's what makes Acanthus cast stone products so surprisingly affordable.
Superior hand-made quality in every cast stone product
Everything we make is completely hand-made. In fact, the only mechanised element in our production process is our mixing machine. Our experienced joinery team make our cast stone moulds by hand. Our casters pack this mould by hand. Then each and every product is finished by hand.
After two weeks curing, and only after two weeks curing, are our products ready for collection or delivery.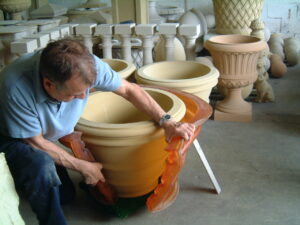 British quality cast stone products handmade in Derbyshire
Locally sourced materials ensure consistent quality
The vast majority of our materials are sourced locally, like the sand that we use, and the crushed limestone. The only thing we import from outside our local area is the white or grey cement that goes into each of our cast stone products.
Naturally, all the items we supply are completely frost-proof and far exceed the performance requirements of BS1217, the UKCSA Specification for Cast Stone, and NBS clause F22.
Govt grant available to Self-builders
The government is keen to encourage Self-builders. So why miss out? Make the most of their new grant. Find out more here.
Request your free cast stone samples today
To ensure the perfect match, we offer free cast stone samples. You can request yours by clicking here.
As a one-stop solution, Acanthus will design, craft and deliver your cast stone products on time, on spec, and on budget.
Get in touch!
Get in touch today, to discuss how we can make an astounding difference to your self-build property.