10 cast stone entrance ideas for creating impact on arrival, and adding value to your property.
Cast Stone products are the attractive and affordable way to elevate the appearance and value of your property, and provide an impressively warm welcome.
We all want our property to offer a warm welcome to visitors, be they friends, family or potential buyers. A huge variety of cast stone products are available to improve the kerb appeal and increase the value of your property.
We'll take a look at 10 great cast stone entrance ideas to offer inspiration on how you can elevate both the appearance and value of your property.
So, you're looking to improve the appearance of your property from the road. Or to create impressive impact as you sweep into the driveway.  Or even to ensure a warmer welcome as you walk past the front gardens and up to the front door. Whether you're looking for something classic and timeless, or contemporary and impactful, cast stone has the answer.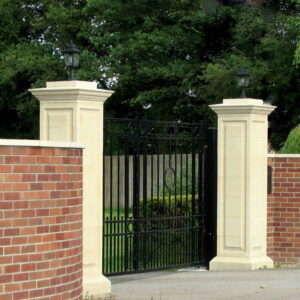 Idea 1: Cast stone gate pillars provide an elegant welcome.
Our complete range of cast stone gate pillar designs provide an elegant and timeless entrance. With a wide range of plain and moulded designs in various sizes to choose from, you'll find the right cast stone gate pillar for your entrance, especially as all can be varied in height to create the perfect proportions.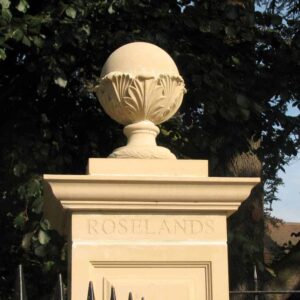 Idea 2: Cast stone balls, pineapples, acorns and finials are the perfect finish.
Cast stone ball and finials are ideal for finishing off pier caps, gate piers, walls and steps. Supplied with or without the bases, choose from a range of beautifully detailed finials. These include our Leaf Ball Finial, a stunning Pineapple Finial (pineapple being the symbol of hospitality) and our imposing Acorn Finial. Again, you can choose from a range of different sizes to complement your environment.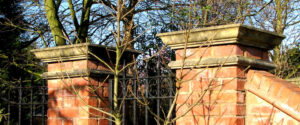 Idea 3: Cast stone pier caps are an investment in timeless quality and also protect your brickwork.
Pier caps protect your brickwork thanks to an overhang allowing rainwater to run off. You can select from plain, classic, Victorian and contemporary designs. With over 80 different pier caps to choose from, you can choose a cast stone pier cap to suit any type or style of pier. Right now, we're offering a 15% discount on all pier caps and copings when you order during December 2021.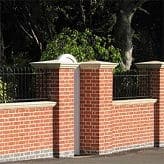 Idea 4: Cast stone copings are the ideal way to top off walls.
Copings provide a pleasing contrast to brickwork, and again protect your walls from damaging rain. To suit your property, choose cast stone copings in flat or sloping designs, and with or without mouldings.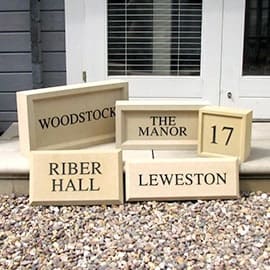 Idea 5: Cast stone engraved plagues personalise your property.
As we get closer to your property, you can choose extra detail to provide impact and style. A great example is cast stone engravings showing your property name, number, or age. They're so much better and longer lasting than the wooden alternatives. You can stick them to existing brickwork with a simple resin bond, or they can be incorporated into new brickwork.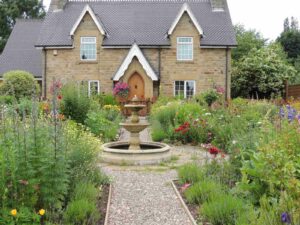 Idea 6: Cast stone fountains and pool surrounds add a touch of magic.
Perfect in the turning circle to the front of your property, pool surrounds can be circular, square, rectangular or bespoke to suit your space. They can also include a fountain as a water feature. Interestingly, many of our customers choose a cast stone pool surround without water, and instead plant it up to provide an elegant and welcoming floral display.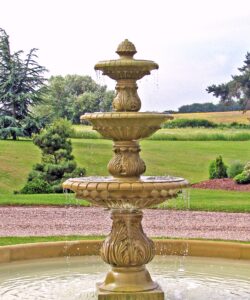 Idea 7: Nothing suggests luxurious opulence better than a grand fountain at your entrance.
While you can choose an immediately impressive triple bowl, and fountains ranging from cascading to upward jets of water, you can also choose a simple bowl for a gentle and pleasing dapple of water.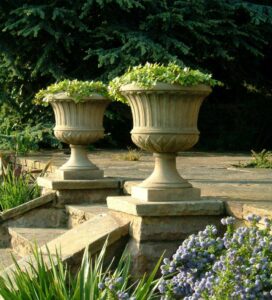 Idea 8: Cast stone planters, troughs and urns age beautifully.
Coming up to the house, you can choose from a huge range of standard planters, troughs and urns. These weather and age, and improve in value and appearance by becoming more attractive with each passing year. Here at Acanthus, we have urns over 30 years old. They look beautiful either side of a doorway.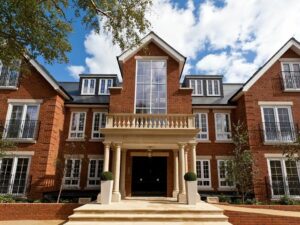 Idea 9: Porticos provide comfort as well as elegance.
Creating a truly dramatic entrance, porticos don't just look imposingly impressive, they also increase the value of your home. Cast stone porticos can easily be added onto an existing property to transform an elevation from bland to majestic. What's more, they can be built against brick, stone and render to provide contrast and impact. With the floor, columns and roof perfectly proportioned, you can ensure your cast stone portico is sympathetic to the space and property style. In addition, by providing shelter from the rain when opening your door, taking off your walking boots or feeding the dog, a cast stone portico offers comfort as well as massive impact. We have several different traditional and contemporary designs, and each one is made to your dimensions.

Idea 10: Seven standard cast stone shades to suit your property.
Remember, with seven standard cast stone colours, you have choices of shades to suit your property. Ivory has a cream finish, Bathstone is buff, Cotswold is warm. York has a greeny-grey finish, and Natural Grey is pencil grey. Portland is almost white and is our lightest colour. Charcoal is a dark grey, and looks great on light or white properties, offering very contemporary ambiance. We offer free samples to check colour and texture in different lights and weather conditions. Order free samples of cast stone here.
Looking for Christmas presents?!
We've a huge range of garden products that make brilliant Christmas presents. Not only are they an attractive present and an imaginative gift, they'll also increase in value as time goes by. That's because products like our cast stone garden urns and sundials weather and age, and look like antiques within a few years. Indeed, we've often seen our cast stone garden products sell at auction for up to ten times their original price. The reason? Simple weathering like lichen and moss makes them look decades older than they actually are.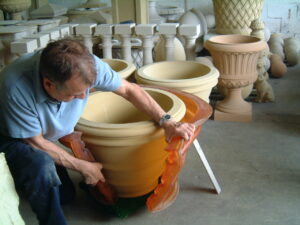 British quality cast stone products handmade in Derbyshire
The vast majority of our materials are sourced locally. This includes the sand that we use, and the crushed limestone. The only thing we import from outside our local area is the white or grey cement that goes into each of our cast stone products.
Naturally, all the items we supply are completely frost-proof. They also far exceed the performance requirements of BS1217, the UKCSA Specification for Cast Stone, and NBS clause F22.
Government grant available to Self-builders
If you're a Self-builder, you might already know the government is keen to encourage you. Why miss out? Make the most of their new grant. Find out more here.
Request your free cast stone samples today
To ensure the perfect match, we offer free Cast Stone samples. You can request yours by clicking here. Remember, Acanthus will design, craft and deliver your Cast Stone products on time, on spec, and on budget.
Let's talk!
If you are looking for great cast stone entrance ideas to maximise the value and impact of your budget, please get in touch with our expert team today.