What is cast stone? How does it compare to natural stone? Where can you use cast stone? And how do you look after it once it's been installed? Our Ultimate Guide to Cast Stone has answers to all of these questions and many more too.
Written with reference to the UK Cast Stone Association, this guide will give you a complete, objective and unbiased understanding of cast stone. In particular, we'll be looking at the cast stone options that are available to you, the manufacturing process, and how to install and maintain cast stone.
While we hope to answer all your questions, there's nothing quite like a little personal advice. So, if there's anything in particular that you'd like to know about cast stone and its many uses, please feel call us on 01773 540704. With deep expertise in every aspect of cast stone, we're a font of information – as our Complete Guide to Cast Stone will demonstrate.
What is Cast Stone?
Cast stone is a manufactured product that looks and feels just like natural stone, but which is much more affordable. This versatile and attractive product is perfect for use on all types of building and landscape projects so cast stone may be the perfect material for your project too.
It has been around for centuries and has been used on prestigious projects around the world and its earliest known use was on the medieval fortifications at Carcassonne in France in the 16th century.
In the UK it has been used on Hampton Court Palace, the Thames embankment and many other famous landmarks.
Cast stone is defined by the United Kingdom Cast Stone Association (UKCSA) as:
"Any product manufactured with aggregate and cementitious binder intended to resemble and be used in a similar way to natural stone".
To Acanthus, cast stone is seen as a unique material that provides multiple benefits for builders, developers and architects alike. Its ability to add feature and interest to projects and transform plain facades into something special means this unique material offers elegance at a surprisingly affordable cost.
Cast stone is cost-effective and versatile
In the wide world of construction and property development, cast stone is becoming increasingly popular due to its ability to add interest and value to projects.
It's little wonder that cast stone has captured the imagination of architects, builders and landscapers who are looking to introduce elegance and impact to all types of traditional or contemporary projects.
 Cast stone is attractive and adaptable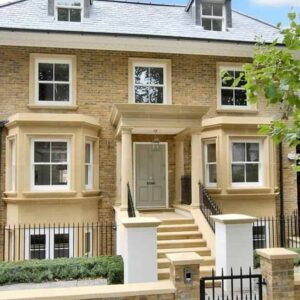 Cast stone products are regularly used on all types of exterior elevations, in garden and landscape areas and on boundary walls. It is used as an alternative to quarried stone as it looks, performs and weathers just like natural stone, but at a fraction of the cost.
Cast stone can beat quarried natural stone on compressive strength, moisture penetration and colour consistency. It's free from imperfections and stratification is never an issue. Indeed, independent research by Dundee University has shown that cast stone will weather and age just like natural stone and looks very much the same.
Do I need standard or bespoke products?
As mentioned earlier, cast stone is used to add detail, interest and value to all types of projects. Clients can either choose from our vast range of standard product designs or have bespoke items made to their own specification or design.
On new building projects, architects will usually specify cast stone items as they know that they add value and kerb appeal, and they will generally choose items from our vast range of standard designs as these are quicker to get to site and cheaper.
They will also often specify bespoke designs and although this is great for adding individuality and for matching existing details on extensions or to match adjacent properties, this will add a little to the cost and the delivery period as CAD drawings will need to be produced and signed off by the client and then bespoke moulds must be manufactured before manufacture can begin.
On extensions and refurbs there is often a need to match what is already there so bespoke cast stone products are ideal.
What is the ordering process?
Clients will either send us their drawings that show cast stone items on the elevations or provide a full schedule of items required. Our estimators will take-off the quantities and return a fully itemised quote so that quantities and details can be checked.
Once an order has been agreed, our CAD draftsmen then produce detailed component drawings for the client to check and approve and once this has been done the drawings and templates are passed to our mould making and joinery department. If bespoke items are required, our pattern makers and joiners will manufacture the moulds in either timber, fibreglass or polyurethane.
The moulds are then sent to the production department where highly skilled casters individually fill the moulds with the semi-dry cast stone mix and they then dismantle the mould before trowelling and hand-finishing every single item.
The finished item is quality checked and measured to ensure that it is exactly as shown on the drawings
So, how are cast stone products actually created?
Manufacturing cast stone products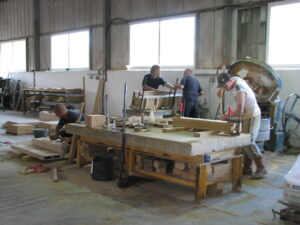 Acanthus cast stone products are manufactured from natural materials and these materials include limestone, cement, sands, pigments, water and various waterproofing and other additives. Apart from the cement, which is imported, all materials are locally sourced in a sustainable way.
The materials are accurately batched in special mixers to ensure consistency of colour and moisture content and test cubes are made regularly to ensure compliance with British Standard and the United Kingdom Specification for Cast Stone.
The cast stone mix is transported to the casting benches where highly skilled casters carefully compact the mix into the mould and after finishing the items, they are transferred to the curing area to set.
After sufficient curing the products are quality checked again and are then palleted and taken into the curing yard where they continue to slowly cure and harden. After a 2 weeks minimum curing period the products are again quality checked and taken to the packaging area where they are carefully packaged and wrapped onto pallets ready for delivery throughout the UK.
Curing cast stone products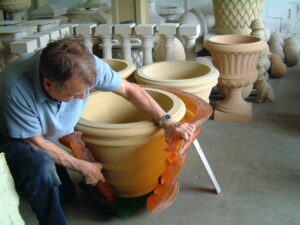 While each stage is important, curing is perhaps the most critical stage of the manufacturing process. Curing of the de-moulded cast stone helps both its appearance and long-term strength and durability.
Depending on the cast stone product and its size, the curing process typically takes at least two weeks to complete. In our experience, the longer the curing period, the better the outcome. It's why we always prefer good lead times in the manufacturing process. An investment in time leads directly to an investment in appearance, durability and strength.
Cast Stone colours
Like most manufacturers, we aim to create cast stone that resembles natural stone as closely as possible, so we manufacture all of our architectural, landscape and garden products in the following range of natural stone shades:
Portland
Ivory
Bathstone
Cotswold
Yorkstone
Natural grey
Charcoal
Free boxed sets of samples are available so that you can choose the one that you prefer and so that you can see actual colour and texture in different lights and weather conditions.
Naturally, all of the cast stone items we supply are completely frost-proof and far exceed the performance requirements of BS1217, the UKCSA Specification for Cast Stone, and NBS clause F22.
Our Range of Cast Stone Products
Our vast range of Architectural, Landscape and Garden cast stone products come in a variety of sizes and types, with a choice of either standard or bespoke designs.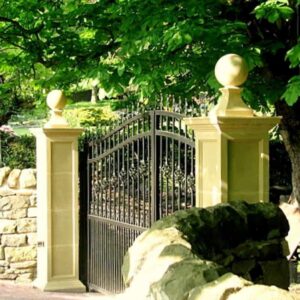 You can create immediate kerb appeal with impressive cast stone Gate Pillars, cast stone Pier Caps and cast stone Copings, elevating entrances.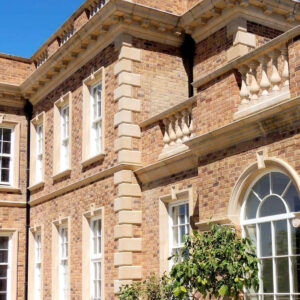 You can create an invaluable wow factor with cast stone Window Heads and cast stone Window Cills, perfectly framing windows with cast stone sympathetic to your design.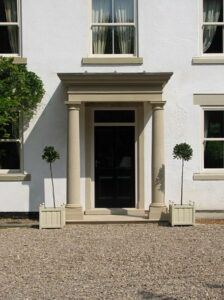 A premium cast stone Portico makes a statement of classic British quality, elevating the frontage of a property for a fraction of the cost of natural stone.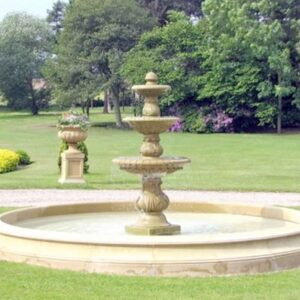 Cast stone Balustrades and cast stone Fountains and Pool Surrounds, provide a transformation that is at once deeply impressive and timeless.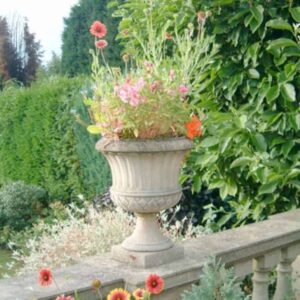 Cast stone Urns and Tazzas suit any garden setting – from the small and beautiful Georgian Tazza, through to the magnificent Urbino Vase.
As well as transforming the appearance and appeal of a property, incorporating cast stone items into a project can make all the difference in getting planning permission approval.
Cast stone is regularly used and approved for use in areas which might have sensitive planning constraints.
The Benefits of Using Cast Stone
Flexible and adaptable
Cast stone is flexible and adaptable.
Attractive and economical
Specifying cast stone allows the ultimate freedom to achieve the aesthetic you desire without any restrictions. High quality moulds made by craftsmen, enables crisp lines, beautiful curves and fine decorative details to be achieved. All of this can be achieved without the high costs associated with cutting, carving and shaping of natural stone.
Consistent and durable
Using specialist mixing methods in both or wet cast and semi-dry products achieves consistency in stone colour, free of the naturally occurring variations or imperfections found in natural stone. In addition, the reduced moisture absorption of cast stone results in improved freeze/thaw durability over natural stone.
Sustainable and renewable
Manufactured in the UK, cast stone can be produced and delivered to site in a much shorter timeframe than natural stone and requires minimal maintenance during its lifetime. Steel components such as reinforcement and fixings can be included in the product during the casting process, making it possible to produce structural stone that negates the need for any additional support, bringing significant associated construction and economic benefits.
Cast Stone versus Natural Stone
Which is best, Cast Stone or Natural Stone, is a question we're often asked.
Cost and Availability
Although natural stone is highly desirable and a beautiful product, it's cost and availability are the main reasons why cast stone is used instead. The process of extraction, cutting and finishing the stone can be comparatively more expensive and time
consuming than producing cast stone. In addition, while locally sourced UK stone options are available, popular stones from abroad are often imported from China, Italy and Turkey, increasing the carbon footprint of the material.
Easy to Replicate
Replication is much more cost effective with cast stone as once the mould is made, it is simply filled as many times as necessary, and because we use the semi-dry method of manufacture, which is a bit like making a sandcastle on a beach, the mould can be filled many times each day whereas with natural stone, every item would have to be carved from scratch.
Easily manipulated
Complex shapes which could not be produced in natural stone, can in most cases be manufactured in cast stone. It is possible to reinforce cast stone elements to produce a strong structural unit.
 How to Clean & Maintain Cast Stone
One of the enduring features of cast stone is that it ages and weathers just like natural stone, giving it character and appeal as time goes by. This weathering process is highly desirable on cast stone garden products such as urns, balustrade, benches etc.
However, on new-build luxury dwellings for instance, staining on main entrance products such as porticos, door and window surrounds from bird droppings, algae etc can be considered to be unsightly and some customers prefer the cast stone products to stay looking like new.
If cast stone becomes heavily contaminated, it is possible to clean it up using proprietary cleaning products and we have technical data sheets which explain what cleaning products you will need and how to do this.
Specialist cast stone installers can often assist with the cleaning and maintenance of cast stone components and our team can help you choose an installer in your local area.
Waterproofing sealer can also be applied to cleaned areas to ensure that the cast stone remains waterproof and to slow down the weathering process if desired and again we can advise and assist you with this.
If cast stone items get chipped or damaged, repairs to small areas can be achieved on site using our matching pointing mix which is available from Acanthus.
Choosing A Cast Stone Supplier
The UK Cast Stone Association states that choosing an UKCSA Member company gives clients confidence because of the strict controls and standards that members must adhere to. These include the manufacturing standards and procedures and third-party testing and verification together with the social responsibility expected from a credible organisation. They go on to say:
'All categories of cast stone products, whether semi-dry, wet-cast or fibre reinforced, have their relative advantages and should be considered as suitable or preferred alternatives to the natural stone they replicate. In addition to their manufacturing process is the quality of the raw materials, product durability, buildability, and most importantly the reliability, dependability, and accountability of the manufacturer.  Therefore, it is essential that, whichever product category is selected, the supplier should be chosen extremely carefully.'
Acanthus Cast Stone is a full member of UKCSA.
For more information, please visit their website: https://ukcsa.co.uk/
Ultimate Guide to Cast Stone Conclusion
Cast stone is an established and recognised product that is used widely in the construction and landscape industry. To discuss cast stone and its uses, or how we can maximise the value and impact of your budget, please get in touch with our expert team today.
Request your free cast stone samples today
To ensure the perfect match, we offer free cast stone samples. You can request yours by clicking here. Remember, Acanthus will design, craft and deliver your cast stone products on time, on spec, and on budget