Those looking to make a striking first impression with the front of their property can do no wrong by adding a cast stone portico to their entrance.
Stretching as far back as Ancient Greece, porticos have withstood the test of time, lasting through thousands of years of architectural development with their stunning design, adding elegance and class to any building.
Made up of two columns and a roof to create a porch style structure, cast stone porticos are perfect for taking your entrance to the next level and adding the wow factor to your property.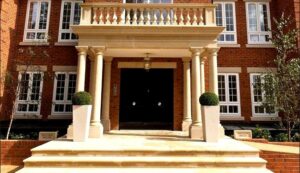 Why add a cast stone portico to your entrance?
The main selling point of a cast stone portico is the stunning visuals they offer any entrance, a significantly more glamorous upgrade than a standard porch, creating a focal point for the front of your property which adds instant kerb appeal.
The enhanced visual appeal and porch-style area will create an extra selling point which adds significant value to any property.
With pillars and roofs available in various designs, our range of cast stone porticos suit whatever style you require for your project. If you would like a bespoke design, then our experienced in-house CAD team can help you design your ideal portico.
Choose your Column designs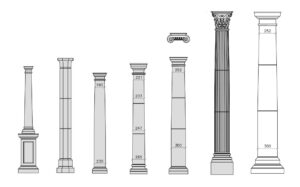 We have a wide range of standard column designs available, which can perfectly match the style of your property.
Our plain and fluted columns come in a range of styles with clean modern lines or fine architectural detailing, to adapt to whether you want them to match a newbuild or existing building.
Most of our columns are made from solid cast stone, but if you require drainage or additional steelwork for your project, then we can provide hollow ones too.
Choose your Shape and Roof designs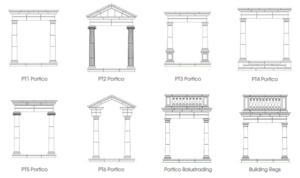 There are several different designs you can choose for the roof of your cast stone portico, and each of them add different architectural effects and functions.
• Curved porticos – Curved porticos usually have a flat roof but curve round like a semi-circle rather than a rectangle, for a neoclassical effect which is perfect for smaller porticos that still want to make an impact.
• Rectangular porticos – The symmetrical styling of rectangular porticos is perfect for Georgian style homes, the sharp lines and intricate detailing make it ideal for those looking to make a striking statement with a grand entrance.
• Pitched roof porticos – Pitched roof porticos add drama and elegance to any entrance. The triangular shaped roof adds a unique design to this portico which complements any style of property.
• Porticos with a balcony – Incorporating a balcony is a perfect addition to your portico as the extra space created on the roof adds a level of functionality to your entrance. Accessible from the first floor of your home, you can use the balcony as a fantastic spot for sitting in the sun or taking in the views. The balustrade styling, which tops the roof, adds another stunning feature to your portico and takes that feeling of grandeur to the next level.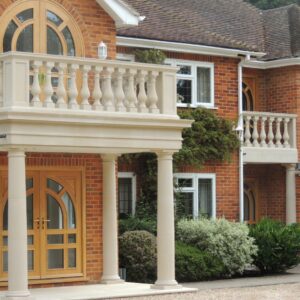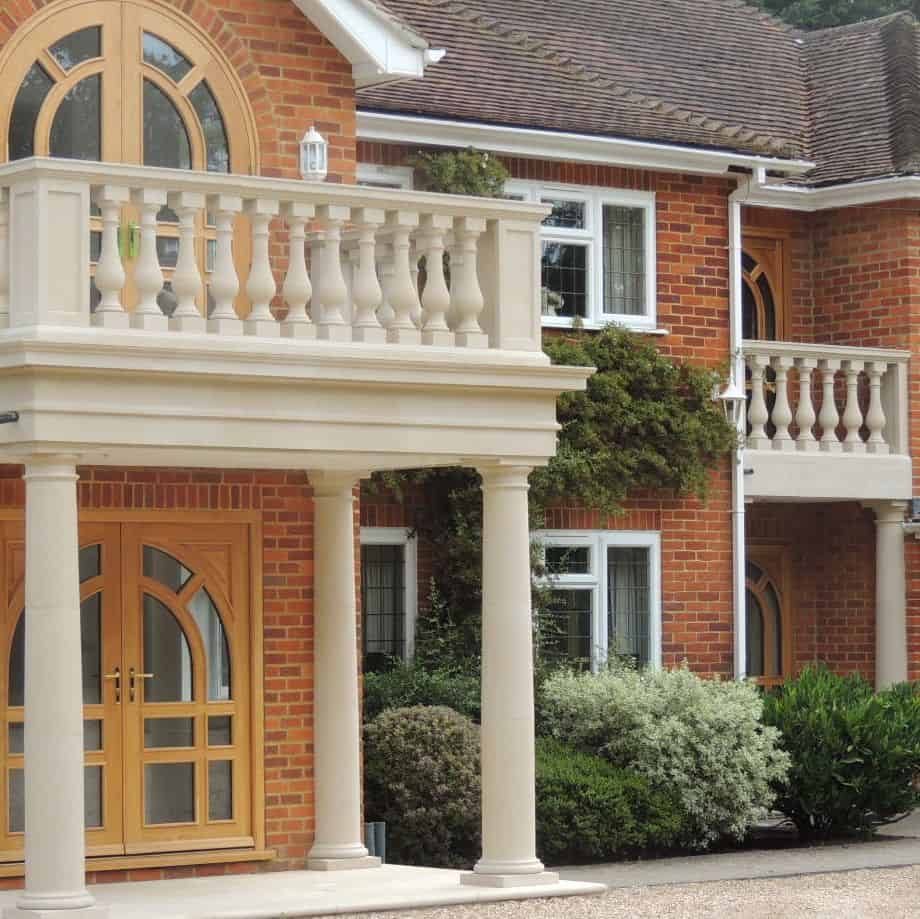 What colours are available?
Our cast stone porticos are available in a wide range of distinctive natural stone colours so they can perfectly complement any property.
We offer:
• Portland – a light shade which is popular on many London buildings.
• Ivory – our most popular colour, a classic off-white.
• Bathstone – a pale shade often seen on Georgian properties.
• Cotswold – a colour which gives you a traditional cottage style.
• Yorkstone – a very traditionally British shade.
• Natural Grey – a modern shade, perfect for modern porticos.
Charcoal and Terracotta are our NEW colours.

If you're unsure which colour would be best for your project, then we can send you free samples to help you decide.
How do I get started on my cast stone portico project?
If you're looking for a cast stone portico for your property, we can help you plan the perfect option.
Choose from our extensive range of standard designs or use our bespoke service, both at surprisingly affordable prices.
Our experienced estimators, draftsmen and project managers will ensure that your project runs smoothly, whatever the size or budget.
Our CAD experts can work alongside you every step of the way to design whatever portico you require, with a range of CAD drawings and technical info sheets available.
Call our helpful team today for all the advice you need.