Coping stones are the top covering of a wall or pillar that helps in stopping rainfall from penetrating and potentially damaging the structure. However aside from the practical uses, a coping stone can help to create a classy and sophisticated look to your building project.
Coping stones are often designed specifically to suit the architecture of the building in order to create an imposing, yet welcoming and timeless look to your property. They are an essential finish to a wall and they've been used within building and architectural projects for decades.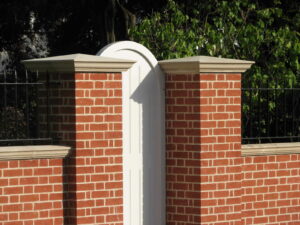 What are coping stones used for?
Coping stones are used to cover the top of a wall, pillar or swimming pool. They are installed on top of a concrete or stone foundation and serve some important purposes:
Helping to prevent water from entering and penetrating the wall cavity.
Creating a timeless, subtle, yet imposing appearance to a building.
What are the benefits of having a coping stone?
Coping stones are an essential part of aiding the protection of a wall from the elements. By providing a design that allows rainwater and debris to easily run off the top of the wall, you're preventing costly maintenance in the future, due to rainwater staining or water ingress into the cavity of the wall.
Aside from the practical benefits, coping stones can transform an uninspiring, featureless stone fence into an imposing and characterful piece of architecture for a relatively modest outlay.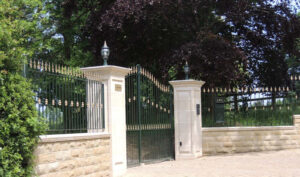 What is a coping stone made of?
Coping stones are usually made of stone, brick or tiles, however different manufacturers will utilise a range of different materials to make up a coping stone. Some manufacturers will use concrete, sandstone or synthetic stone (such as fiberglass), however these materials have their drawbacks, either due to their appearance, cost of manufacturing or the level of maintenance required in the future.
In some cases, natural stone is used to form a coping stone, which can be expensive, due to being made from a raw material extracted from a quarry that requires a lot of labour, and a lot of preventative maintenance during it's lifespan.
At Acanthus, we use cast stone, which uses innovative mixing methods to provide both an exceptional finish, and incredibly strong durability, whilst being cheaper to purchase, easier to fit, and requiring a lot less future maintenance. We use a cast mix of high-quality aggregates that allows us the flexibility to offer a wide range of designs at a fraction of the price of natural stone.
Cast stone products are also often better protected from the British weather, as they can be easily treated to last for generations.
Contact us to learn more about the materials we use in our coping stones.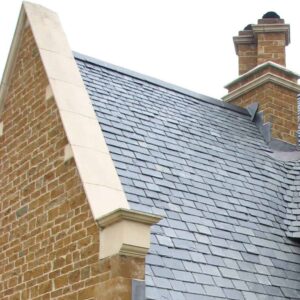 Where is a coping stone for?
Coping stones are used for the top of a wall, however the use cases for the wall can be varied. For example, you might apply a wall to surround your property with a gate, and a coping stone covering the top of the brickwork.
You may also use a coping stone as a stylistic piece for the top of pillars, such as the entrance to your house (such as in the form of a portico).
Coping stones also make a great feature to finish the end of a roof, creating grandeur to any residence.
It's also common to use coping stones on the walls of a swimming pool, which is essential as it prevents debris from entering the pool, subsequently helping to protect the wall.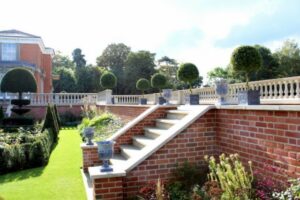 What are the different types of coping stone?
With a range of different use-cases for a coping stone, there are also a wide range of styles to suit.
At Acanthus Stone, we are happy to manufacture custom-made coping designs, including pier caps, balls, finials and name stones in a range of classy colours to add an exceptional finish to your project.
Here are some of the most common types of coping stones:
Boundary Wall Copings
We provide a wide range to suit most wall thicknesses. Entrances can have pier caps and balls added to creating an imposing entrance to your home.
Gable Copings
Designed to create a classy image to the end of a gable roof, these are offered in both flat and moulded apex designs.
Swimming Pool Copings
We supply copings that are designed bespoke to the project specification, with a fall allowing water to run outwards from the pool.
Parapet Copings
Available in several widths and designs, these are usually once-weathered so that the slope allows the rainwater to run back to the roof.
Our range of coping stones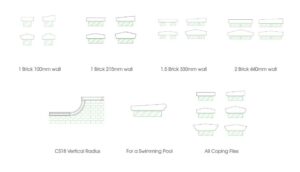 What is the difference between once weathered and twice weathered coping stones?
Once weathered coping stones ensure that the rainwater flows in a specific direction, whereas twice-weathered coping stones are designed so that rain falls off both edges.
So, a once-weathered coping stone might typically have an inward-facing inverted slope to direct water along the top (similar to a gutter), usually towards a gutter, whereas a twice-weathered coping stone will usually divert water towards both sides of the wall.
Whether you require a once weathered or twice weathered coping stone will depend on your specific project and its requirements. Contact a member of the team for more advice on what coping stone design is right for you.
Do coping stones need sealing?
Coping stones need to be watertight in order to extend the life and prevent staining due to water ingress and other elements. Whilst cast stone coping stones are an incredibly strong and hardwearing material, they are natural materials that need to be protected. A damp proof course (DPC) and a cavity tray are essential for protecting coping stones. At Acanthus, all of our products contain a chemical water retardant to prevent water ingress, which means that it's not necessary to treat our products. Our range of coping stones are ready to be installed upon delivery.
Do coping stones need to overhang?
Copings need to overhang by at least 30mm to 50mm on each side, increasing depending on the specific project. This is in order for water to drip off without touching the wall. For example, we recommend that gable or parapet walls should use a 40-50mm overhang, as this will ensure that the wall is protected from the elements, reducing the chances of weathering and damage. With this being the main practical function of a coping stone, it's essential that your coping stone manufacturer adheres to these requirements.
How do you attach coping stones?
Fortunately, at Acanthus, all of our coping stones are weatherproof from the factory, enabling much easier installation and weatherproofing when compared to other materials such as natural stone.
How much do coping stones cost?
Being used on a wide variety of projects, a quality coping stone manufacturer should learn more about your project before providing a quote, as it's difficult to provide an accurate price point without understanding the specific requirements. This is because different building projects require coping stones with a different design (such as once weathered or twice weathered). The size of the coping stones also differ depending on the project, and of course the number of coping stones depend of the length of the wall.
We have the individual prices of each of our most popular coping stones on our product page, which should help to give you a rough guide on the cost of your coping stone project.
Alternatively, contact a member of our team for a free, no obligation quote.
Conclusion
Coping stones are not only an essential part of a wall design, adding protection to the wall from rain, debris and moss, but they also offer an opportunity to add style, sophistication and an imposing entrance to your home.
With such a wide variety of stone products on the market, it's important that you choose the one that's right for you and your project. It's a great opportunity to add that finishing touch of class to your project, but it's crucial to get such an investment just right.
We hope you have enjoyed this article, and found it useful and informative. If you require any further information on coping stones, or wish to discuss our bespoke and hand-picked range of coping stones, please do not hesitate to get in touch.