A portico is a covered, roofed walkway that is usually held up by columns and is often found on the front of a house, creating a classy, desirable and imposing impression to a building. The word portico is Italian for porch, but they are typically referred to as a very specific type of architecture. Porticos have been around since ancient times, typically added to significant temples and religious buildings.
Porticos have only increased in popularity since then, and it's easy to see why. Porticos are found on some of the most opulent, desirable and sophisticated homes across the world, not only being a practical solution for staying out of the rain, but also proven to add value and curb-appeal to any residence.
What is the difference between a porch and a portico?
A portico and a porch are often used interchangeably due to their similarities, although there are some key distinctions between the two. A portico is a roofed structure supported by columns, which can be freestanding or attached to the house, with typically two to four columns that support the roof. Meanwhile, a porch also has a roof and walls but does not include posts or columns for additional support. Compared to porches, which are commonplace on many types of houses, porticos are much rarer to see and create a much more imposing and sophisticated form of charm to a property.

Why add a portico to your house?
A stone portico can be an instant source of class and elegance for any home, enhancing its curb appeal with timeless sophisticated charm. Particularly on period properties, a portico is seen as a much more stylish option when compared to a standard porch. Even on more modern buildings, porticos can be custom designed to create a perfect fit for your property.
Benefits of adding a portico to your house:
–              Enhance the value of your property
–              Create a classy, impactful entrance to your home
–              Protection from the ever-unpredictable British weather
What are the types of portico?
The portico's design can range from modern and minimalistic with thin pillars to more elaborate and ornate designs popularised in ancient Greek buildings that feature thick columns and ornamental framing around the doors. Homeowners also have many options for porticos built from different materials, such as brick or wood, which add a unique aesthetic touch to any home.
The most common type is known as "the Tuscan style", although there are four main portico styles: Tuscan, Corinthian, Ionic, and Doric. Corinthian is the most ornate, known for its decorative foliage. Ionic porticos feature two large columns topped by a triangular pediment with two smaller columns in between. Doric porticos are much simpler in design and are typically rectangular, while Tuscan porticos have very few ornaments aside from their columns. Each style creates a unique look that makes a statement about the nature of the building it guards.
Acanthus Cast Stone offers an extensive selection of exquisite portico designs that can instantly transform the look and value of a building.
Here are some of the different portico styles that we offer here at Acanthus Stone: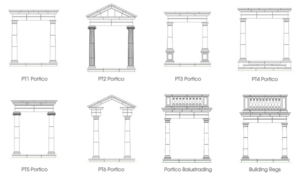 What is the purpose of a portico?
Porticos create a welcoming entrance into the home and can help to increase the home's curb appeal. Additionally, it provides protection from unpleasant weather and may also offer beneficial shade during hot summer days. A portico can be an attractive decoration for any type of architecture, ranging from classic Georgian-style housing to contemporary styles. Furthermore, it can add value to a home, making it more attractive to potential buyers when it comes time to sell.
What materials are used in a portico?
Porticos are constructed from intricate stone pieces, custom-made to suit the architecture of your building and your personal preferences.
There are usually two common production methods used for building stone porticos; Cast Stone and Natural Stone.
Cast Stone or Natural Stone?
Natural Stone is the raw material that is extracted from quarries around the world. It tends to be cut by hand into specific shapes, requiring a lot of labour and future maintenance, and is therefore much more expensive than Cast Stone. You are also limited to sizes based on the chunks that come out of the ground.
Cast Stone is a refined manufactured material that takes advantage of specialist mixing methods to create an exceptional finish. It's significantly cheaper than using natural stone, requires less maintenance and can be produced in a much shorter time frame.
At Acanthus, our Cast Stone Porticos provide the same aesthetic and rugged benefits as natural stone but at a fraction of the cost, with much more flexibility on the design and size of your portico and less maintenance in the future.
What is the cost of a portico on a house?
The typical starting price of one of our porticos, delivered to your house is around £4,000. However, we always take into account each design on a case-by-case basis in order to ensure our clients are getting a competitive price.
What are the alternatives to a portico?
Despite being a stunning addition to a range of residences, a portico won't necessarily suit every property or everyone's tastes.
Sometimes a bespoke door surround is enough to add sophistication and class to the entrance of your home. Our door surrounds present the grandiosity of a portico and can be custom tailored to perfectly match you, and your property's aesthetic.
Learn more about our cast stone door surrounds here.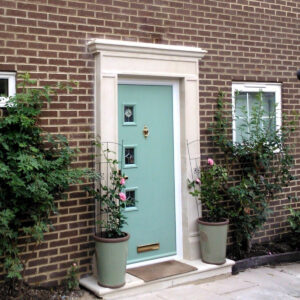 Why Choose Acanthus?
We strive to bring unique and architecturally-inspired designs into the lives of our customers. Our expertise extends beyond commercial and residential spaces; whether it's for your home or business, you can count on us for one-of-a kind options that match existing features or flawlessly follow architectural drawings.
Request a free consultation for more information on the design and materials used in your portico.
Conclusion
Porticos have been an architectural triumph for generations and provide a timeless, impactful and tasteful addition to a home. Not only do they add style and class to the appearance, but they also protect you from the elements, add significant value to a property and are surprisingly easy to install.
We hope you have enjoyed this article. If you require any further information on porticos, or wish to discuss our range of custom stone-built porticos, please do not hesitate to get in touch.