What is a Coping Stone?
Coping stones are the top covering of a wall that helps in stopping rainfall from penetrating and potentially damaging the structure. However aside from the practical uses, a coping stone can help to create a stylish and sophisticated look to your building project.
Coping stones are often designed specifically to suit the architecture of the building in order to create an imposing, yet welcoming and timeless look to your property. They are an essential finish to a wall, and they've been used within building and architectural projects for centuries.
It's common to see coping stones in both traditional or contemporary architectural settings, as they offer both functional and stunning decorative benefits, making them a popular choice in construction and architectural projects.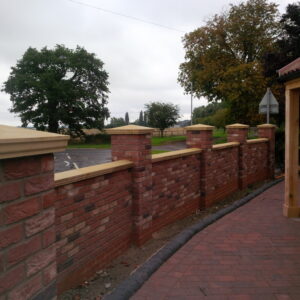 View our range of cast stone coping stones here.
History
Coping stones have been used for centuries. In fact, they go back to Roman times. They are a popular product for adding beautiful architectural details to the boundary and garden walls of a property.
The method of 'coping' in architectural terms is literally to cap or cover a wall, usually with an angled or curved shape to allow the rainwater to run off and prevent damage. The Roman coping stones were mostly plain and flat and designed to 'channel' away water. As styles changed, copings were given steeper slopes and turned into more decorative features.
Today, coping stones and pier caps are popular with homeowners and developers who want to add character to their properties whether on boundary walls, gables, parapets, garden walls or swimming pool surrounds.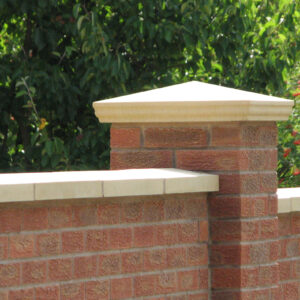 What are coping stones used for?
Coping stones are used to cover the top of a wall. They are installed on top of a brick or stone foundation and serve two important purposes:
Helping to prevent water from entering and penetrating the wall cavity.
Creating a stunning appearance and adding character to a structure.

What are the benefits of having a coping stone?
Coping stones help to protect the wall from the elements. By providing a design that allows rainwater and debris to easily run off the top of the structure, you are reducing the likelihood of water seeping into the brick work or masonry. They help to prevent moisture from penetrating the wall's surface and reduce the chances of problems such as deterioration of the underlying materials as well as reduce the possibility of mould growth. In effect, by adding coping stones you're preventing costly maintenance in the future as well as increasing the longevity of your underlying structure.
Aside from the practical benefits, coping stones can transform an uninspiring, featureless stone wall into an imposing and characterful piece of architecture for a relatively modest outlay.
Combining features such as railings, coping stones, pier caps and finials to your boundary wall and entranceway provides a beautiful first impression to your property.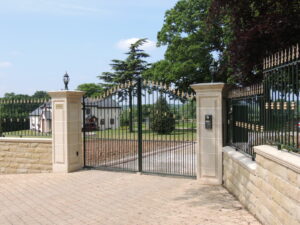 What is a coping stone made of?
Coping stones are usually made of stone or concrete, although brick on edge can also be used as a type of coping as well.

Different manufacturers will utilise a range of different materials in coping stone production. Some manufacturers will use concrete or natural stone. However, these materials have their drawbacks, either due to their appearance, cost of manufacturing or the level of maintenance required in the future.
Using natural stone for copings can be expensive due to being made from a raw material extracted from a quarry that requires a great deal of labour. There are also less design options available with natural stone.
At Acanthus, we use cast stone which provides both an exceptional finish and incredibly strong durability. Cast stone is surprisingly affordable to purchase compared to natural stone but provides much better aesthetic appeal compared to concrete. We use a cast mix of high-quality aggregates that allows us the flexibility to offer a wide range of designs at a fraction of the price of natural stone.
It's worth noting that all our coping stones includes a water-proofer in the mix, so no further waterproofing is needed.
Where are coping stones used?
Coping stones are often used on the top of freestanding walls. However, the uses for coping stones can be quite varied. For example, you might use coping stones to add a beautiful finish to the boundary wall of your property or to a garden wall.
Coping stones also make a great feature to finish the gable end of your house, creating a beautiful contrast against slate roof tiles.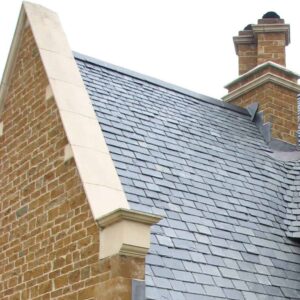 They are also used on a variety of parapet walls whether on a roof, bridge, balcony or terrace.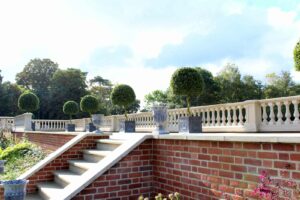 It's also common to use coping stones on the walls of a swimming pool, which is essential as it prevents debris from entering the pool, subsequently helping to protect the pool surround.
What are the different types of coping stone?
With a range of different uses for a coping stone, there are also a wide range of styles to suit.
Here are some of the most common types of coping stones:
Boundary Wall Copings
We provide a wide range to suit most wall thicknesses. Entrances can utilise coping stones combined with matching pier caps and balls to creating an imposing approach to your home.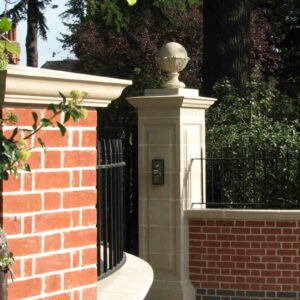 Coping Stones for Vertical Drops on Boundary Walls
For those who want to add even more interest to their boundary wall with a vertical drop, Acanthus offers two standard sizes of coping stones as well as being able to produce bespoke coping stones based on your architect's drawings.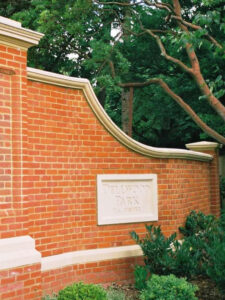 Gable Copings
Designed to create a classy image to the end of a gable roof, these are offered in both flat and moulded apex designs.
Swimming Pool Copings
We supply copings that are designed bespoke to the project specification, with a fall allowing water to run outwards from the pool.
Parapet Copings
Available in several widths and designs, these are usually once-weathered so that the slope allows the rainwater to run back to the roof if internal guttering has been installed.
Coping Stone Designs
Coping stones designs are based on the following styles or categories:
Flat as the name suggests are flat in profile and are often called traditional Romanesque 'flat' copings.
Once weathered or single weathered have a single slope on the top surface so water can run off appropriately. They are most often used to direct the rainwater a certain way to protect the structure below. These copings are sometimes also referred to as wedged or splayed.
Apex which is sometimes called twice weathered or saddle has a ridge in the middle of the stone so water can run off both sides and are therefore often used where water does not need directing one way or another. Here the coping stone is simply providing protection for the wall.
Decorative copings draw inspiration from the Roman era and are often found on church walls and other older buildings such as some of the traditional red brick universities.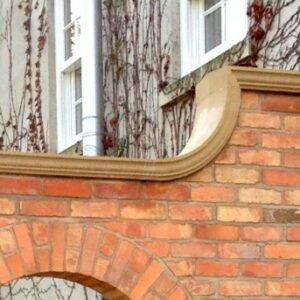 As well as offering flat, apex and once weathered coping stone designs, every stone is manufactured to perfectly fit different wall thicknesses.
Our coping stone design options are also available with matching terminal ends and corners to remove the need for cutting on site, giving a seamless, professional finish to your project. We also offer coping stones suitable for rendered walls, to suit the addition of railings and vertical radius coping stones.
Besides the coping stones themselves, there is the opportunity to add additional design details with our plinth and string courses.
Plinth course is used just above ground level, on the lowest part of the wall and usually has a chamfer or moulded detail. It provides a beautiful start to a wall.
String course is used as a horizontal feature band around the exterior of a building or wall and can be a single or double course with plain, chamfered or moulded detailing.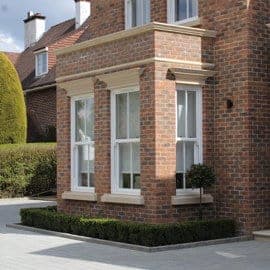 For more information on our plinth and string courses, please contact us.
When it comes to copings and having one of the UK's largest ranges of coping stones, we have something to suit any project and every budget.
Not only that, we have matching pier caps to complement our coping stones to perfection.
Our Range of Coping Stones
Our range of coping stones is one of the largest in the UK and covers most project requirements. Where you have specific needs, we can work with you to produce bespoke coping stones.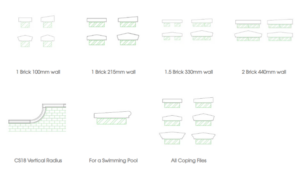 Coping Stone Standard Sizes
To make ordering coping stones easier, our products are split into four standard size groups.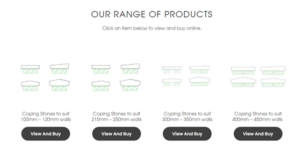 For every size, we have a full range of shapes and designs, from traditional Romanesque 'flat' copings to wedge-shaped and apex designs.
At Acanthus, every coping stone has a matching pier cap and vice versa. You can match the profile and colour when you buy your coping stones and pier caps from us.
If you already know what you need, click the button below to buy coping stones online.
What colour coping stone should I choose?
While colour choices ultimately come down to personal preference, certain colours have stood the test of time and possess a timeless allure. There are also colours that work particularly well with specific architectural types.
Head over to our exterior stone colour guide for a detailed guide on the best practices for selecting the right colour for your project.
As a general rule of thumb, the colour of stone that you choose for your property should be considerate of the following:
Brick, cladding and render colours
Roof colour and style
Window and door colours
Existing stone elements within the architecture
Landscaping style
Our coping stones are available in eight standard colours that reflect natural stone shades. You can choose from:
Portland
Ivory
Bathstone
Cotswold
Yorkstone
Natural Grey
Charcoal (15% surcharge)
Terracotta (15% surcharge).

Coping Stone Samples
Choosing the right colour stone for your project is an important decision. At Acanthus we make it easy for you to decide by providing samples for you to check against your brick or render colour. We also recommend that you check the colour in different lights to be sure you're making the right choice. Samples can be ordered online and will be sent in the post – just click below to order your samples.
Bespoke Cast Stone Coping Stones
At Acanthus, we can offer completely unique coping stones as well. Our team of highly skilled CAD draftsmen takes great pride in their ability to create CAD drawings from your measurements or architect's drawings.
Once the drawings undergo a thorough review and receive approval from you, your architect or builder, they are then passed on to our joiners who have the expertise to produce a mould specifically tailored to your customised requirement. Our casters use the mould to produce the bespoke coping stones.
What sets our bespoke cast stone coping stones apart is not only its exclusivity and exceptional craftsmanship, but also its surprising affordability when compared to alternative stone options.
For bespoke coping stones, please do get in touch with the team at Acanthus.
Copings for Curved Walls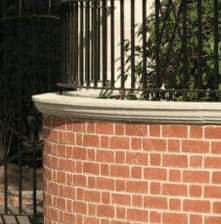 Thanks to our skilled CAD technicians and expert craftsmen, we're able to supply cast stone copings for curved walls.
Curved walls can add a touch of class to a project, and coping stones that are made to fit the shape of your curved wall perfectly are a must and provide the perfect finishing touch.
Here at Acanthus curved wall coping stones are made based on the radius of your wall. As a bespoke service, it's best to contact us directly with the measurements so we can provide a tailored quote.
What is the difference between once weathered and twice weathered coping stones?
Once weathered coping stones ensure that the rainwater flows in a specific direction, whereas twice-weathered coping stones are designed so that rain falls off both edges.
So, a once-weathered coping stone might typically have an inward-facing inverted slope to direct water along the top, usually towards a gutter, whereas a twice-weathered coping stone will usually divert water towards both sides of the wall.
Whether you require a once weathered or twice weathered coping stone will depend on your specific project and its requirements.
Weatherproofing, Cleaning and Maintenance
All our products including our coping stones weather like natural stone. To keep your coping stones looking beautiful, you can dry brush and water wash them. You can find more details on how to keep your cast stone products looking fabulous by checking out our cast stone cleaning guide.
We recommend you test your cleaning technique on an inconspicuous area first to make sure you're happy with the result before completing the full clean.
Do coping stones need sealing?
All Acanthus cast stone products, including coping stones, include a waterproofing agent as part of the mix and so no further waterproofing is needed. They are ready for installation when delivered to you.
The coping stones produced by us weather in the same way as natural stone, and you may want this to happen as it works with your property, especially if it is an older property. For more modern buildings and homes, you have the option of applying a sealer to the stone which will mean the weathering process will take longer. The decision is really down to personal preference. Acanthus don't supply stone sealers; however, we do recommend a sealer called Lithofin Stain Stop, which you can purchase here.
Do coping stones need to overhang?
Copings need to overhang by at least 30mm to 50mm on each side, increasing depending on the specific project. The reason this overhang is recommended is so that water can drip off without touching the wall.
Oftentimes, this overhang maybe be larger to protect taller walls. For example, we recommend that gable or parapet walls have an overhang of at least 50mm on the outside wall, as this will help to protect the wall from the elements, reducing the chances of weathering and damage.
For garden walls a minimum overhang of 30mm is recommended as this allows the drip grooves to work effectively.
How do you install coping stones?
Coping stones are generally laid onto a bed of mortar, usually 10mm in thickness, and plastic spacers can be placed into the mortar to support the weight of heavy copings while the mortar sets. Mortar needs to be used between the stones and we supply colour-matched pointing mix to finish the last 6mm to 10mm.
More information on installation including details for gables and parapet walls are provided in our Cast Stone Installation Guide.
How much do coping stones cost?
When it comes to coping stones there are two factors that impact the cost and therefore the price. These are design and size.
When it comes to design, if the coping stones are from our standard range, then the price will generally be lower than bespoke coping stones and more ornate designs.
The actual size of the coping stones you require will also impact the price. Clearly, the larger they are, the higher the cost.
You can check out our coping stones pricing with sizes and shapes to suit your budget by visiting our Coping Stones page and viewing the options in our online shop.
If you're looking for a bespoke size and shape of coping stone, it's best to get in touch with us so we can review your requirements and provide drawings and a quote.
Why Choose Acanthus for your Coping Stones?
Here at Acanthus, we want to provide you with the best quality coping stones at surprisingly affordable prices. To ensure this happens, we make sure that our products, including our coping stones, have an outstanding finish.
We only deliver products that we are 100% happy meet our exacting standards. To ensure this happens, we run our manufacturing with absolute attention to detail, and follow a three-step quality control process. The process includes:
Check 1 – The Factory Check – our factory supervisor reviews all batches of products every morning to ensure they meet our quality standard.
Check 2 – The Order Check – our sales administrator checks the product against the order ensuring the product matches the order exactly.
Check 3 – The Despatch Check – our despatch team check the coping stones again before wrapping and moving to a pallet for delivery to you.
You can be sure when you order from us that you'll receive the very best quality coping stones that will provide the perfect finishing touch.
With perhaps the largest range of coping stones in the UK, prices to suit every budget and our unrivalled quality, why not get in touch today to see how we can help?
Conclusion
Coping stones are not only an essential part of a wall design, adding protection to the wall from rain, debris and moss, they also offer an opportunity to add a characterful piece of architecture to your property.
With such a wide variety of stone products on the market, it's important that you choose the one that's right for you.
We hope you have enjoyed this article and found it useful and informative. We've covered the common questions we get asked about coping stones.
If you require any further information on coping stones or wish to discuss a bespoke coping stone requirement, then the team at Acanthus are here to help. Use the contact form to get in touch.