What is a Pier Cap?
Pier caps, as the name suggests, cap piers, columns and gate pillars and are generally made from either concrete or stone.
Sitting on an existing structure, they help to protect brick and stonework from weather damage. They are also often used to add interest and elegance to the boundary walls and gateways around properties and gardens. Pier caps provide an opportunity to add a real WOW factor to your property.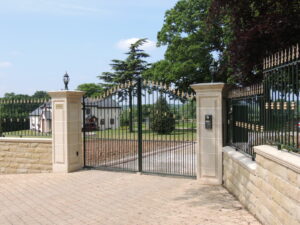 History
Pier caps, like coping stones, have been used for centuries. In fact, there are examples from as far back as the Romans! They have always been a popular product for adding beautiful architectural details to the walls surrounding a building.
The method of 'coping' in architectural terms is literally to cap or cover a wall, usually with an angled or curved shape to allow the rainwater to run off and prevent damage. The Roman coping stones were mostly plain and flat but designed to 'channel' away water. As architectural style developed over the years, copings were given steeper slopes and turned into more decorative features.
Today, coping stones and pier caps are popular with homeowners and developers who want to add a statement to their properties whether it be in the back garden, on the garden wall at the front of a home, or on full boundary walls.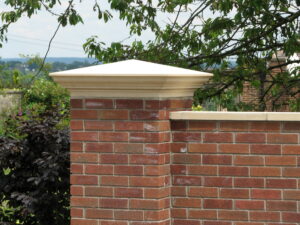 Design, style and matching profiles
No new boundary wall design is complete without matching pier caps.
Design variations include apex, flat top and flush base designs, all with the option to add ball finials to really make an impression.
Our standard pier caps range includes three styles:
Regency – for those wanting to make a real statement, our Regency range is grand and ornate. When you want to make a bold first impression, Regency will be your preferred option.
Elegance – called Elegance as they offer a choice between Standard and Regency, these pier caps add a touch of sophistication that is more understated than the Regency range.
Standard – following a simple, straightforward design, these pier caps offer the best value for money whilst providing your pier or gate pillar with the protection it needs.
Each range of pier caps has a matching range of coping stones to suit different wall widths with corners and terminal ends where appropriate.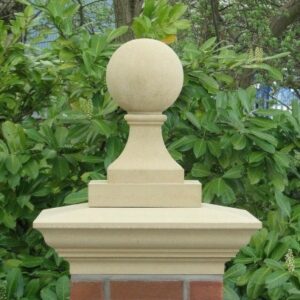 Fluted pier caps
Pier caps can be plain or fluted in profile, with fluted pier caps moulded to a standard profile or a profile of your design.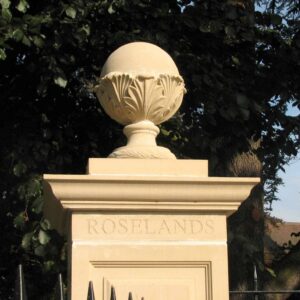 Pier caps with finials
If you want to add a little extra architectural detail to your pier caps, why not add a finial? We have range of finial designs to choose from that include the elegant ball finials as well as more unique and truly beautiful finials such as our amazing Pineapple Finial and Acorn Finial.
If you are looking to have an apex pier cap and a finial, then our range of apex pier caps with pier blocks is perfect for you. These pier caps enable you to have the perfect pier cap and also add a finial for the ultimate statement piece.
We can also create a pier cap to your specific design if you are looking for something truly unique.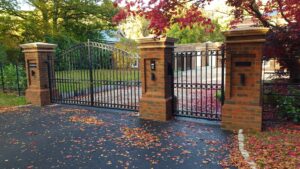 Plinth and string courses can be used to add contrasting architectural features to brick piers. We have bullnose and plain string course designs that sit a couple of brick courses below the pier cap, to add an extra design detail.
Finials are a popular option for homeowners who have gated entrances to their homes and offer a superb finishing touch to the pier cap.
How to measure up for pier caps
The simplest way is to confirm the dimensions of your pillar with our team, and we can then provide recommendations on the best pier cap options for you.
We do have a standard range of pier cap sizes depending on how big your brick pier is. It's important to note that these sizes are based on metric bricks so if you're working with imperial bricks, simply contact us and we'll recommend the ideal solution for you.
Standard pier cap sizes
We have a standard range of classical pier cap designs to suit a range of pier sizes including:
As we highlighted previously, we can also produce bespoke pier caps to your design and size requirements by developing the CAD drawings from your measurements, architect's drawings and / or photos. From there a unique mould would be produced by our expert joiners for our casters to use to produce the final pier caps.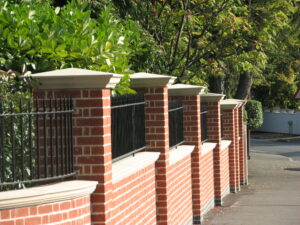 Overhangs and drip grooves
Overhangs and drip grooves help to protect the render and brick work from the weather and water ingress.
Looking firstly at overhangs, this is where the pier cap quite literally 'hangs over' the wall or column, and potentially offers greater protection than pier caps that are flush to the wall and have no overhang.
With the overhang design, the pier cap will include drip grooves. These are grooves that are 15mm in from the edge and 10mm in width that, as the name suggests, acts as a barrier to the water hitting the brick work and causing damage. When the rainwater hits the groove, it then drips to the floor avoiding the brick work.
The ideal overhang to enable the drip groove to work effectively is 30mm and this is considered the minimum overhang here at Acanthus.
Drip grooves are also known as throated stone grooves. Terminology such as twice throated (for two grooves in coping stones) and three throated (three grooves for terminal end coping stones) are often used.
If you prefer to have a flush finish to your pier cap, we do also provide a full range of pier caps for this design style. In this case, the pier caps do not include a drip groove and instead sit flush to the bricks. Fortunately, the style of the pier cap does offer some protection from the elements simply due to their design.
 Installation of pier caps
Installing your pier caps is relatively straight forward for reputable brick layers.
The pier caps are laid onto a bed of mortar which is usually at 10mm depth. For large pier caps, it's important that plastic spacers are placed into the mortar to support the weight of the cap while the mortar sets.
For large pier caps of 3.5 bricks width and upwards, we cast M12 lifting sockets into the top of the cap for handling purposes. Smaller pier caps can be lifted into place with several people, but the larger caps require mechanical lifting with a genie lift or hoist for example.
It's worth noting that we don't supply the spacers, lifting loops or the mechanical lifting equipment.
Where lifting sockets have been cast, we always supply a colour matched pointing mix for filling in the sockets after installation to improve the finished appearance of the pier cap.
Our website and quotations will detail the weights of the caps so you can plan your installation method ahead of delivery.
There are situations when your pier caps will be supplied in more than one piece. In these instances, the best method is to resin the pieces together using a chemical anchor/polyester resin. Resins are readily available from places like Toolstation and Screwfix.
 Bespoke pier caps
As you may have started to realise, we have the capability in-house to provide bespoke pier caps. Pier caps can be produced in almost any shape or size. Our draughtsmen can work from photos or architectural drawings to provide a final CAD drawing. There are no limits to the shape and size of the pier cap so let your imagination run wild or send us photos of a neighbour's pier cap that you love, and we'll work our magic.
For period properties that feature original handcrafted pier caps or coping stones in unusual designs, our skilled CAD draughtsmen, joiners and casters can replicate any shape or style to maintain heritage aesthetics. It's one of our specialities and Acanthus Cast Stone was highly commended in the UK Cast Stone Association awards in 2021 for one of our projects.
Here are a couple of examples of just what our team can produce include:
These bespoke gate pier caps for a stunning country house near Windsor: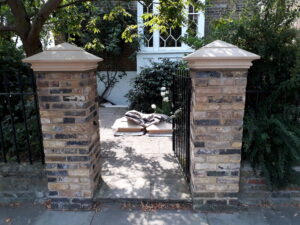 When one of the coping stones at Charing Cross Station was damaged by a lorry, we produced an exact replica:

Colour and Samples
While colour choices ultimately come down to personal preference, certain colours have stood the test of time. There are also colours that work particularly well with specific architectural styles.
Check out our exterior stone colour guide for a details on the best practices for selecting the right colour for your project.
As a rule of thumb, the colour of stone that you choose for your pier caps should be considerate of the brick, cladding and render colours and landscaping style.
All cast stone products are available in a selection of natural stone shades, which have the same feel as hand carved stone. Choose from:
Portland
Ivory
Bathstone
Cotswold
Yorkstone
Natural Grey
Charcoal
Terracotta

Pier Cap Samples
We know that choosing the right colour for your project is a big decision, and that's why we always recommend you order samples from us. Samples will be sent in the post to you so you can look at the colour in different lights, check it against your brick or render colours and ensure the colour is just right for you.
Weatherproofing, Cleaning and Maintenance
All our stone includes a water-proofer in the mix, so no further waterproofing is needed. You can, if you wish, also use a sealer on the stone but it isn't essential.
Our pier caps, and all our products, weather like natural stone. You can keep your pier caps looking great by dry brushing and water washing. You can find more details on how to keep your cast stone looking great by reading our cast stone cleaning guide.
One important tip would be to test your cleaning technique on a small inconspicuous area initially to make sure you're happy with the results of your efforts.
Cost
Pier caps, of course, vary in price based on their size and design style.
We offer a range of sizes and shapes to suit everyone's budget, and you can check out our prices by visiting our Pier Caps page and viewing the options for your brick sizes.
Of course, if you're looking for a bespoke size and shape, you'll almost certainly be spending more, and it's best to get in touch with us so we can review your requirements, and provide drawings and a price.
Why Choose Acanthus for Pier Caps?
As a family-owned business, we pride ourselves on the quality of our products. We make sure that our pier caps have crisp lines and an outstanding finish.
No product leaves our premises unless we are 100% happy with it. In fact, we run our manufacturing with precision, and follow a three-step quality control process. The process includes:
Check 1 – our factory supervisor checks the latest batch of products every morning.
Check 2 – another member of the team checks the product against the order ensuring we're spot on.
Check 3 – our despatch team check again before wrapping and moving to a pallet for delivery.
You can be sure when you order from us that you'll get top quality pier caps that really will provide that perfect finishing touch.
With possibly the largest range of pier caps in the UK, pricing to suit every budget and our unrivalled quality as highlighted above, it makes sense to get in touch and see how we can help.
Conclusion
In this guide we have covered the most common questions we get asked about pier caps, what they are and how to utilise them to improve the kerb appeal of almost any property.
If you are looking to create a stunning entranceway to your home or level up your garden wall, then please do get in touch with the Acanthus team using the contact form below and we'll be happy to help with all things pier caps and cast stone.